ROSE THRIFT KAL
WELCOME TO THE ROSE THRIFT CARDIGAN KNIT-ALONG
Hosted By Plymouth Yarn Company And Meghan Jones Of Little NutMeg Productions.
Join Me (Meghan) As We Work Through Every Step Of The Gorgeous Rose Thrift Cardigan From Planning To Finishing And Make Yourself (Or A Friend) A Spectacular Knitted Cardi!
In the First Lesson we took a look at the schematic, chose what size to knit based on measurements and talked about easy adjustments that could be made with needle sizes. If you missed that lesson, check it out here! 
In the Second Lesson we really delved into sizing for the fronts including changing needle sizes and possibly even changing the stitch counts, as well as where to place the eyelet band and working the garter stitch rows from the blocked swatch. If you missed that lesson check it out here! 
In the Third Lesson we blocked the fronts and the back, and then calculated joining rows to seam the differing stitch counts on the front shoulders to the back shoulders. If you missed that lesson, check it out here! 
In the Fourth Lesson we calculated how to adjust the sleeve length and/or the circumference if needed, we also learned how to do some math for a perfect pickup row. If you missed that lesson, check it out here! 
In the Fifth lesson we calculated the correct number of stitches to pick up for the front band if any adjustments had been made to the rest of the garment. We also took a look at two different methods of binding off those band stitches. If you missed that lesson, check it out here!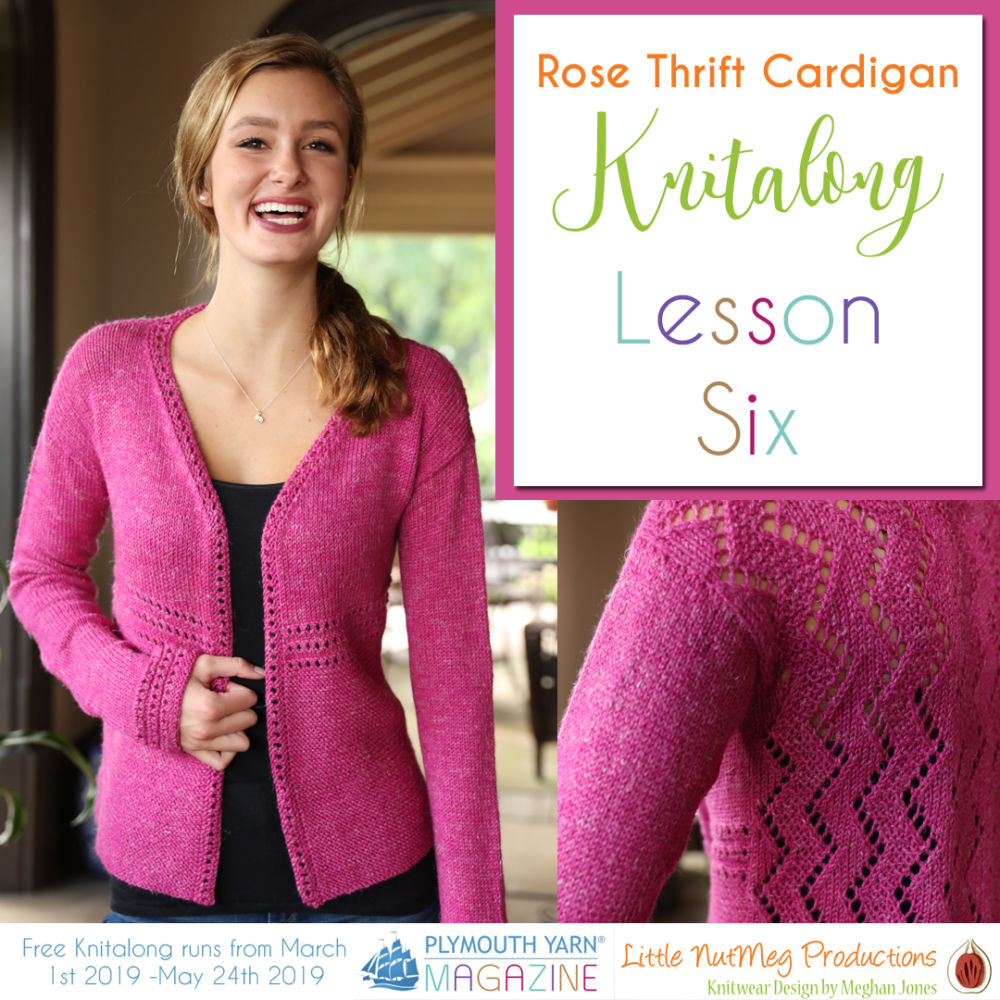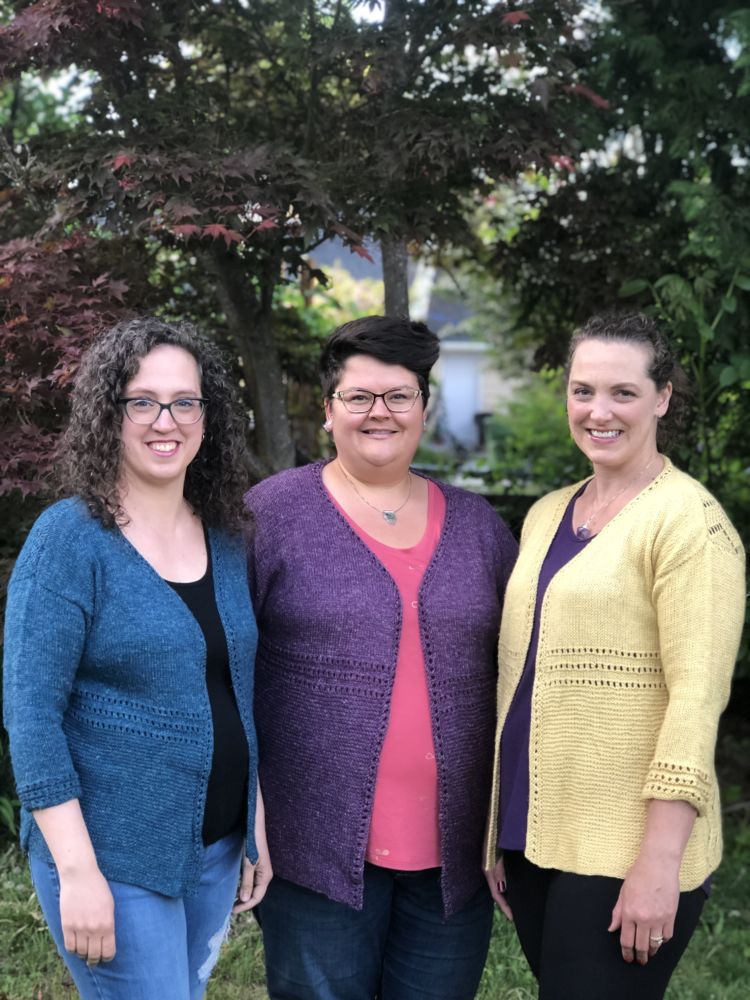 Lesson 6
This lesson is less of a lesson and more of a Show and Tell! Let's take a look at three finished Rose Thrift Cardigans, the alterations that each knitter made and how the finished cardigan fits overall.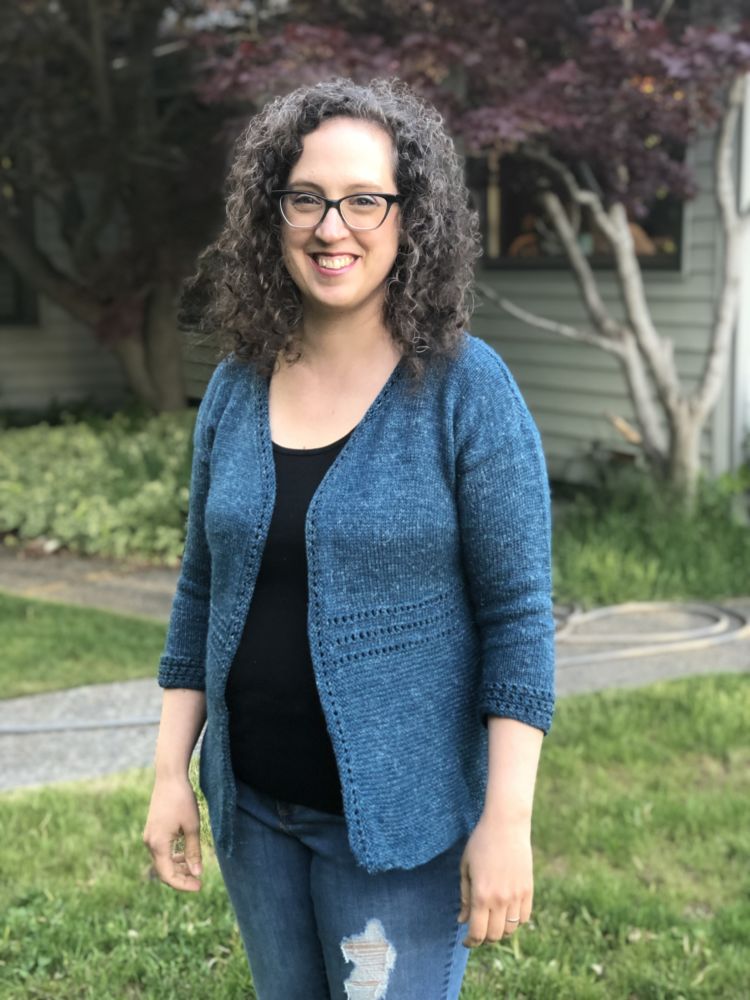 Gretchen's Cardigan
Size Knit: 43 ½"
Color Used: Pacific Sunrise
Adjustments Made:
Back – I'm an hourglass pear shape, so I did the first ten inches of the back on size sixes and the rest on size fives, making it narrower at the shoulders and closer to my measurements from armpit to armpit across the back.
Fronts – as per the lesson, I modified the fronts for my curvy measurements. Most tops that have a band under the bust, the band hits me mid boob instead of under. Took me a couple tries to figure out the modifications! I started the garter on size sixes for four inches and then switched to fives. I made the eyelet pattern band a little lower (if I were to knit the cardigan again I would add maybe two more ridges of garter before the eyelets) and added short row shaping for the bust.
Sleeves – I decided to make them 3/4 sleeves instead of full length. After blocking the back and fronts, I discovered my armhole depth was about a half inch more so used that measurement to calculate how many stitches to pick up. Then measured how long I wanted the sleeve and did the math for figuring out how often to decrease.
Front band – since I modified for bust and across the back, my numbers for picking up stitches were different than the original pattern. I knew I needed an odd number of stitches and so used that to figure out how many stitches to pick up. Also, I'm thinking I should have done larger gauge swatches, since my fronts and back ended up a smidge longer than I thought they would be, based on gauge calculations. Worked out great though and fits nicely but I took into account the extra inch or so when picking up stitches.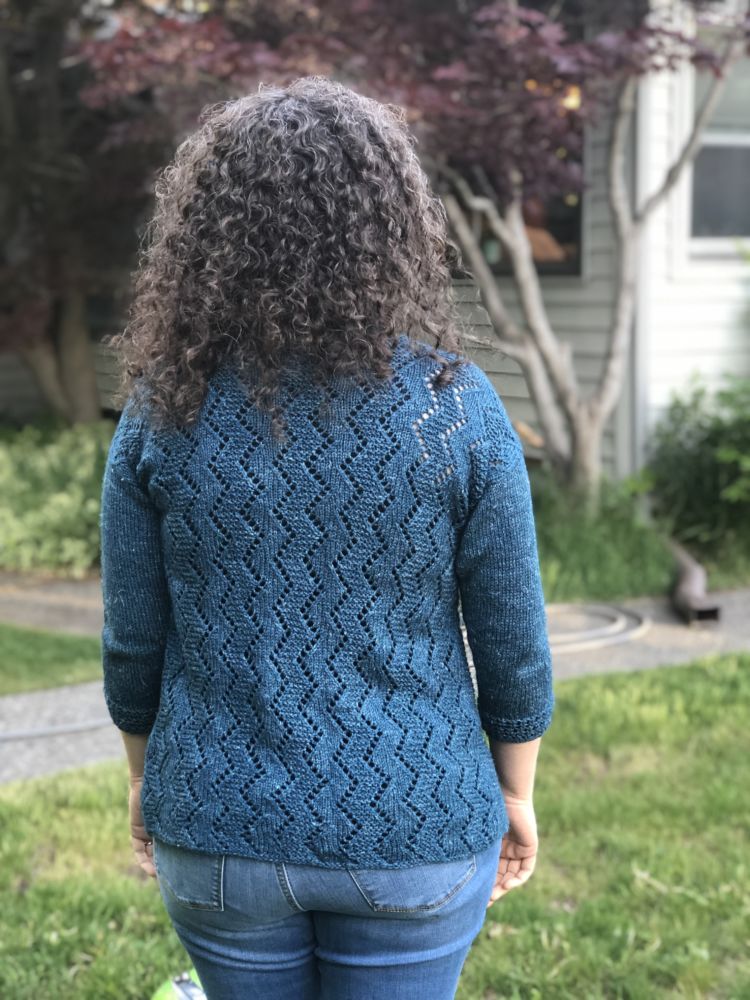 Would you change anything if you knit it again?: I would make the eyelet row in the front about half an inch higher and I would make a bigger gauge swatch so my measurements would have been a bit more precise.
Favorite part: I love the zigzag lace on the back.
Where do you plan on wearing it? This is such a versatile layering piece. I can see myself wearing it to work, on a walk in the park, out to lunch, around the house, just about anywhere.
What outfit will you wear it with? I have a light grey swing dress I think it will be perfect with or with a black tank and jeans or shorts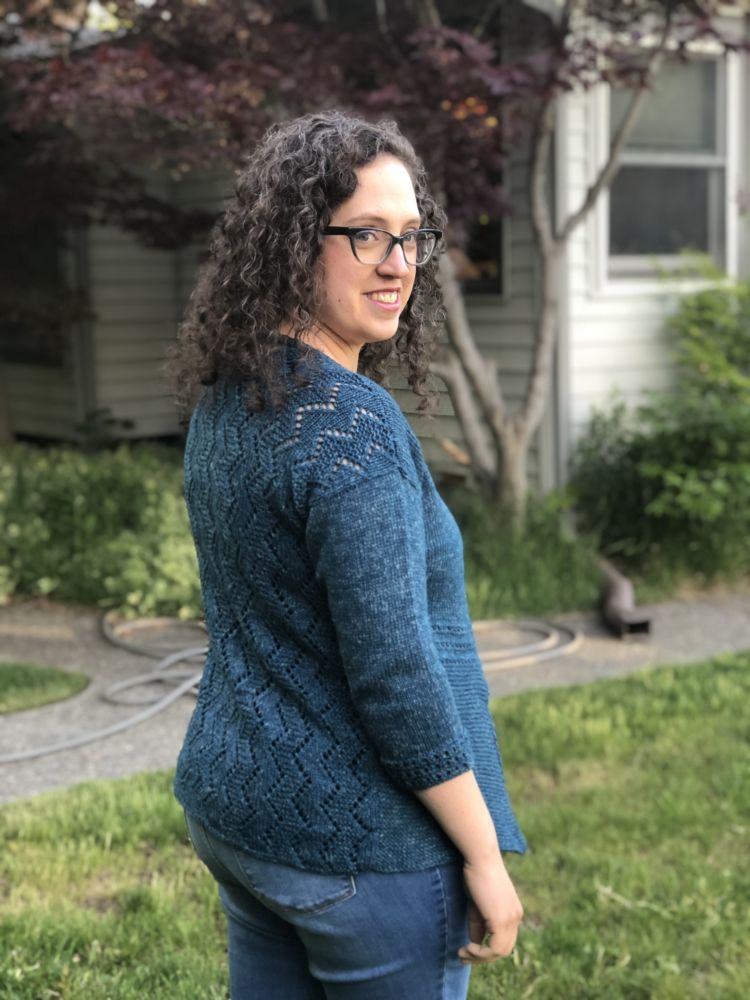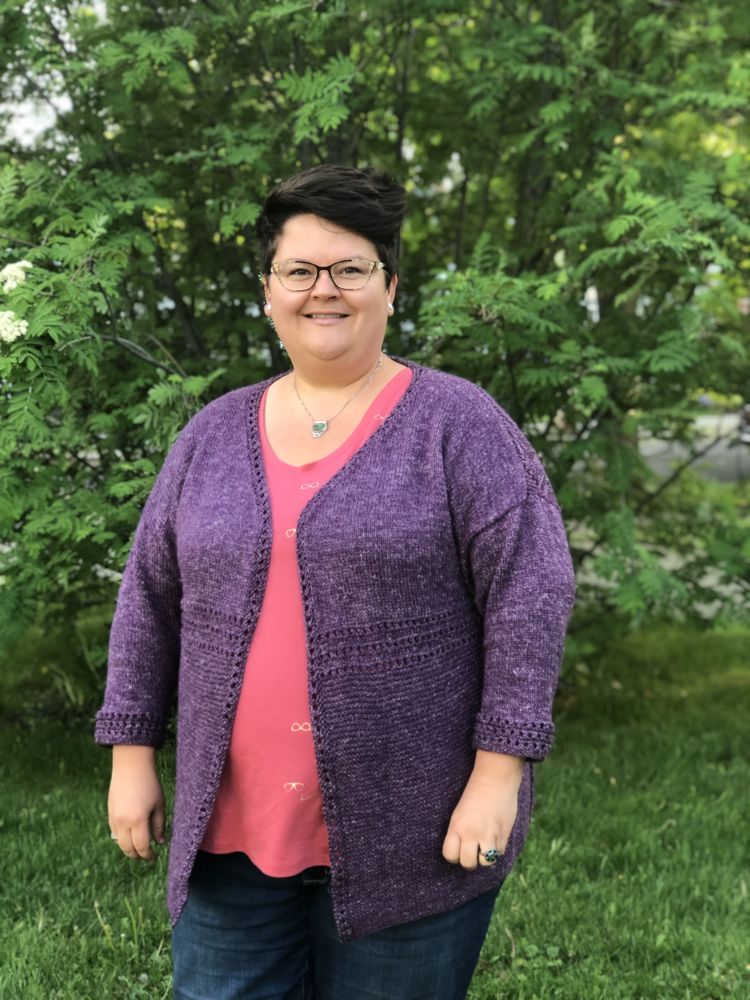 Meghan's Cardigan
Size Knit: 55 ½"
Color Used: Plum Sunrise
Adjustments Made:
Back – I used the recommended needle for the lower body (US size 6/4.00mm) and then went one size needle smaller for the upper body (US size 5/3.75mm). I also added 2.5" of length overall to the cardigan since I wanted a longer look.
Fronts – Since I carry more weight in my front belly (hello 4-babies-later mom body) I used the larger needle (US size 6/4mm) for the garter stitch to make more width, I continued with the larger needle for the stockinette area. I added 3.5" of length using short rows for the fronts to cover my bust and belly.
Sleeves – I definitely wanted shorter length sleeves so went for a bracelet-3/4 length look, I used the indicated pickup for my size in the pattern but adjusted the length for a shorter total length.
Front band – I added 3.5" worth of stitches to the front pickup on each side and removed ½" worth of stitches from the neck to account for the smaller upper back due to my needle size.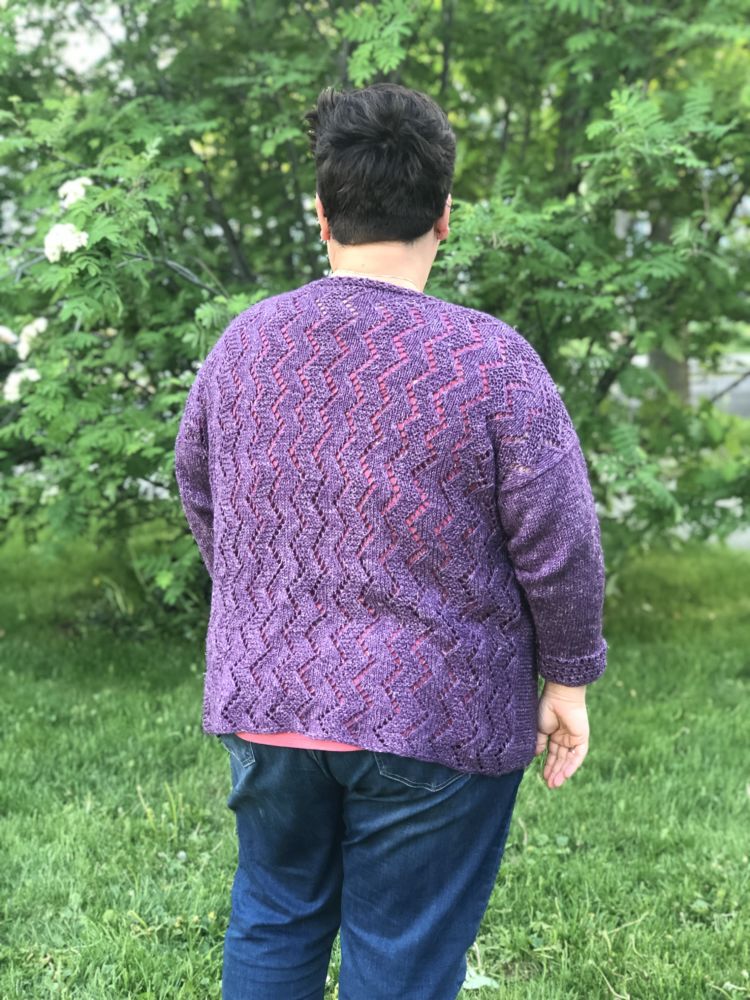 Would you change anything if you knit it again? I love the fit, so I would repeat that but use a different color like maybe the Lime Sunrise, or Navy Sunrise.
Favorite Part of the Knit: I loved knitting the back, that texture and lace pattern is one of my favorites.
Where do you plan on wearing it? This cardigan will be in the nicer 'special occasion' part of my wardrobe so I will probably wear it to piano recitals, acting class performances and dinner with the Hubs.
What outfit will you wear it with? Skinny jeans and a pink t-shirt, or maybe a pencil skirt and golden yellow linen top!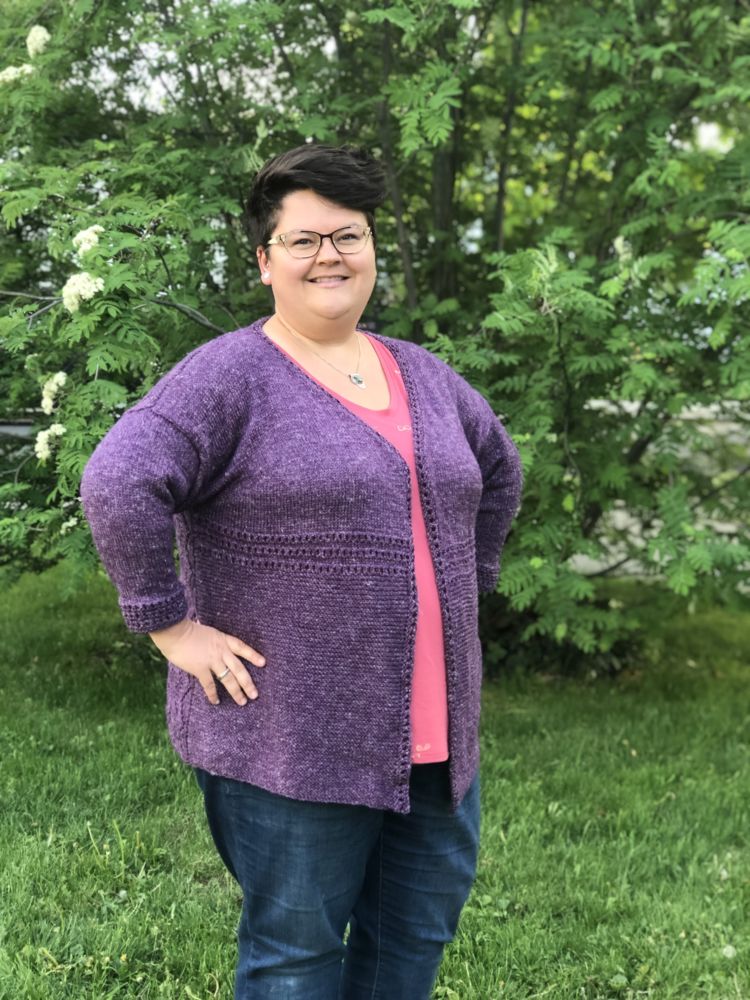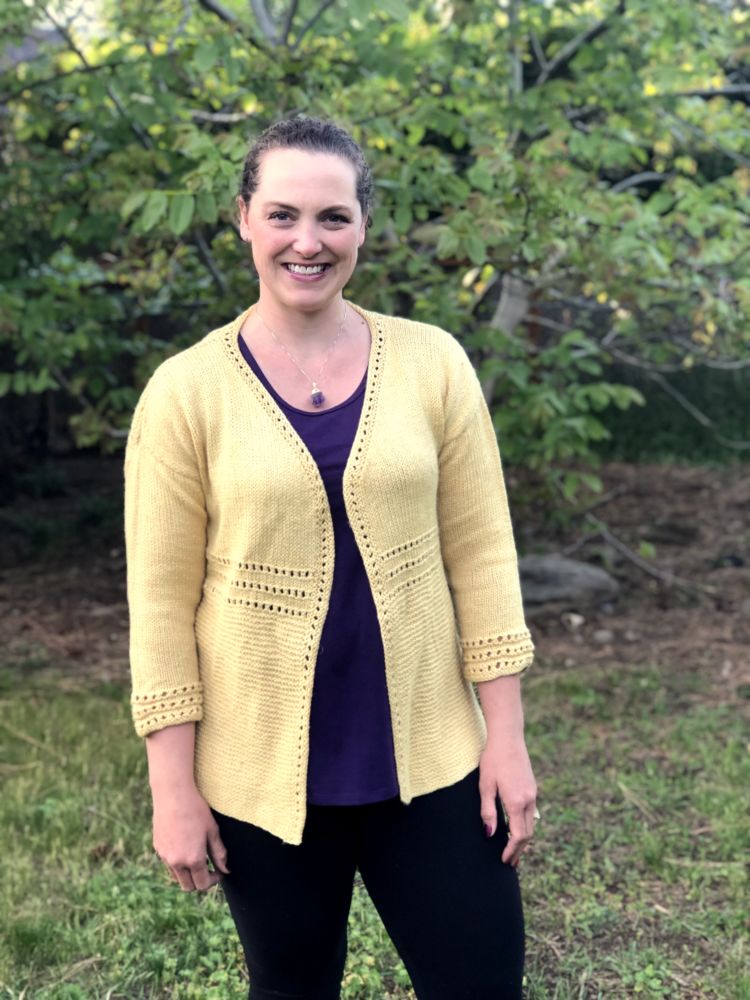 Sarah's Cardigan
Size Knit: 43 ½"
Color Used: Citrus Sunrise
Adjustments Made:
Back – I worked the back pattern as written using a US size 6 /4mm needle.
Fronts – I worked each front according to my size using the needle changes too.
Sleeves – For the shorter sleeves, I still decreased down to 50 sts, but did the decreases over a shorter length.
Front band – This was a really nice edging for a sweater simple and fast, I used the numbers for my size.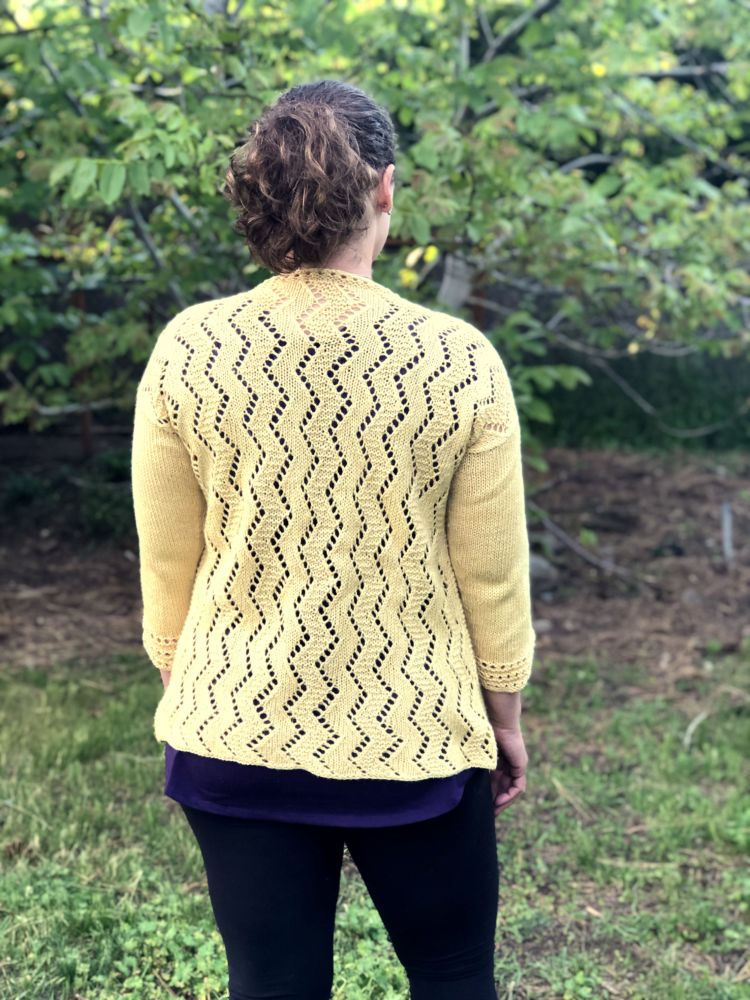 Would you change anything if you knit it again? Nope – it turned out great!
Favorite part: Knitting the back – it went really quickly and turned out so pretty!
Where do you plan on wearing it? I plan on wearing it anytime I need a light layer. I see it coming in handy for cold meeting rooms at work or for a warmer layer while I'm watching my kids' spring soccer games.
What outfit will you wear it with? I will probably mostly wear it with jeans and a t-shirt or tank top. But I will also definitely take it on some work trips as well.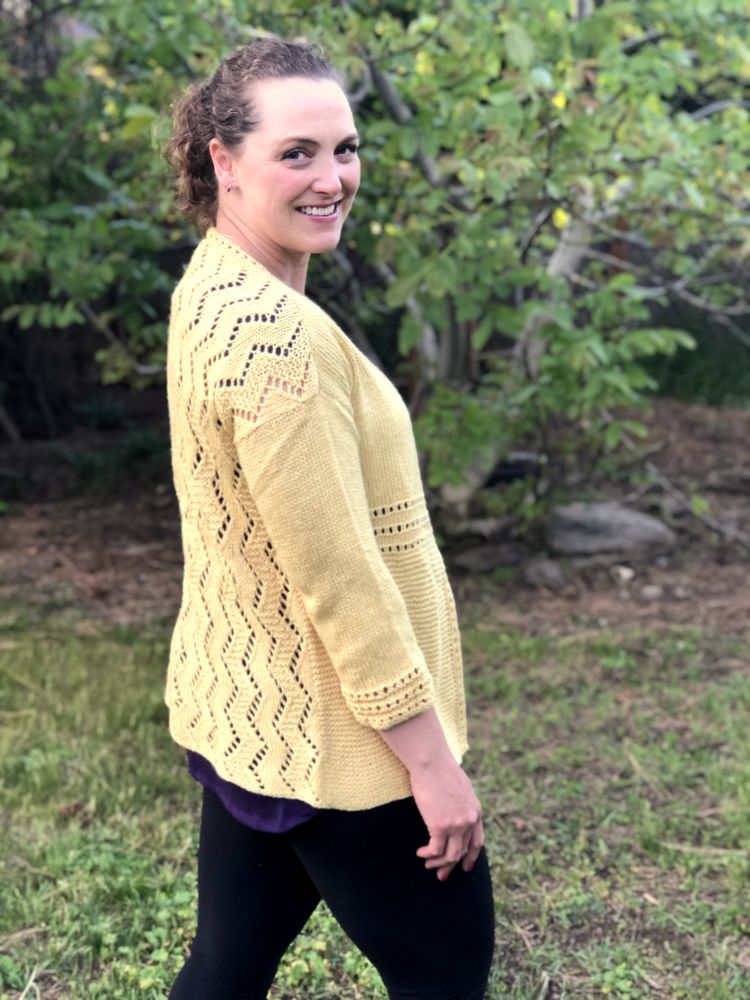 All Done!  I hope you enjoyed this knitalong as much as we did! We found that it made for a great knitting group project where we could all work on the same project and compare notes and shaping. Make sure to post photos on Instagram if you are knitting your own Rose Thrift Cardigan, and you can always post questions in the comments on any of the blog posts.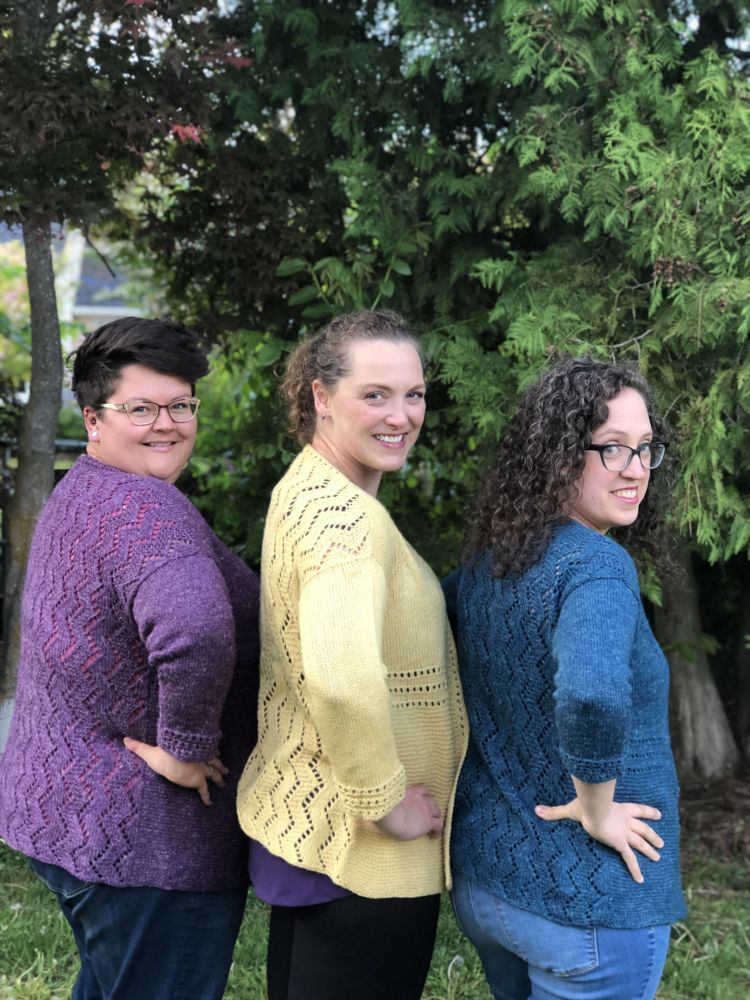 SHARING!!
I would LOVE to see photos of your progress on this Knit along, please share photos via Instagram using the hashtags #plymouthknitalong  #rosethriftkal  you can tag Plymouth Yarn using @plymouthyarn and tag me using @meghanjoneslnmp. 
QUESTIONS? COMMENTS?
Feel free to leave questions and comments in the comment section of this post, I will respond to questions as quickly as possible as well as add any Frequently Asked Questions to the bottom of this post for reference.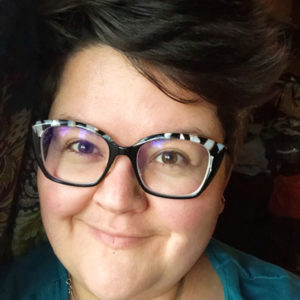 Meghan Jones is a full-time knitwear designer who lives with her husband and 4 children in the Inland Northwest. When she is not knitting she spends her time nurturing obsessions with gardening, cooking, and sharks. You can find more of her work at www.littlenutmegproductions.com on Instagram, Facebook, and Ravelry.