Moon Shadow by Plymouth Yarn
Baby Alpaca and Pima Cotton – So good together!
Plymouth Yarn needed a yarn with warmth and breathability and next- to -skin softness that would make the perfect season spanning garment. Incorporating the chainette construction insured it would be lighter than air! The name Moon Shadow is inspired by how the light is softly diffused by the Baby Alpacas halo much like the shadow of the Moon. Organic Pima Cotton was added for comfort and durability. We tossed around the name for a few weeks and it stuck! The entire team at Plymouth couldn't resist singing the classic song by Cat Stevens, Moon Shadow! \
A buttery-soft worsted weight blend of 68% Baby Alpaca and 32% Organic Pima Cotton, is micro chained into an ultralight yarn whose stitches just melt into place. A truly superior yarn due to not only its composition but its construction a soft glossy micro cable offers ultra low pilling and tremendous stitch definition.
Stay tuned for more designs in Moon Shadow!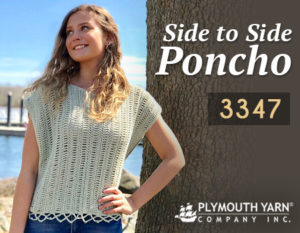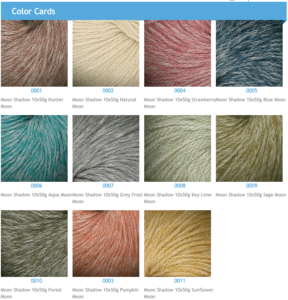 Contents:
68% Baby Alpaca, 32% Organic Pima Cotton / Hand Wash, Dry Flat