Welcome to Plymouth Yarn Review with Meghan Jones, here we will take an in depth look at the newest yarns from Plymouth Yarn Company, their qualities and quirks and projects you should definitely try knitting with them.
Avita
NEW!!! Avita is a brand new 2021 release that truly gives a celestial experience, a sparkling shiny core of lurex is spun with a fluffy alpaca halo for a divine knitting project!
Weight: Worsted/Aran
Yardage: 214 yards = 1.75oz /195 m = 50g
Materials: 73% Baby Alpaca, 17% Lurex, 10% Nylon
Colors: 8 colors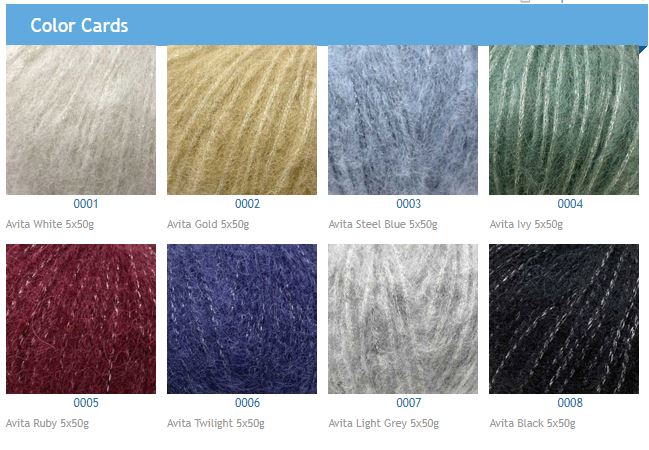 Avita is available in 8 colors, white, light grey, pale yellow, grey blue, mid blue, sea foam, red, and black. While all the shades contain the center core of sparkling lurex the lighter colors have a more subtle sparkle with the silver just barely a flicker in the surrounding alpaca. The 4 darker colors- especially the black- really highlight the lurex sparkle and the contrast of the dark alpaca with the shiny silver makes for a very special evening wear type look.
How does it knit up?
Literally like a cloud, this yarn seems lighter than air and I was constantly amazed that it wasn't floating out of my knitting bag! The alpaca halo on this yarn makes for a very soft look as well as feel, you are going to have subtle texture, and lace patterns are going to be understated. Since the yarn has so much loft it knits up very quickly on US Size 9/5mm needles and the lightness of the yarn makes it easy on the hands and elbows. Just to give you an idea of how much lighter this yarn is; a skein of the Baby Alpaca Worsted has 204 yards in it and weighs in at 100 grams, a skein of Avita has 214 yards in it (10 more yards) and weighs half as much at 50 grams.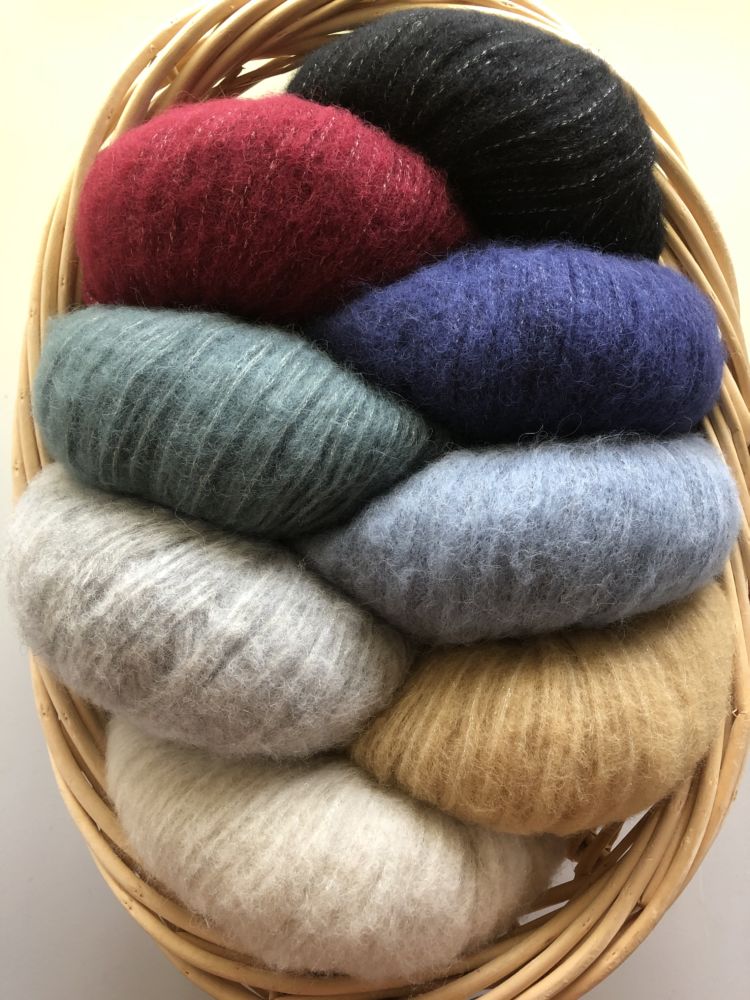 Is the Lurex Itchy?
That is exactly what I wanted to know too! It is not itchy at all, the alpaca covers the center core completely .
What should you use it for?
The softness of this yarn would be amazing for a cowl, scarf, or wrap. A cardigan would knit up super fast and be delightful to knit and wear.
If you are looking for a lighter than air, soft as a cloud pullover with beautiful lace then Pattern #3449 is a must knit!! This bottom up pullover is worked back and forth and seamed with set in cap sleeves and  simple raw edges. Find this stunning pattern on Ravelry here.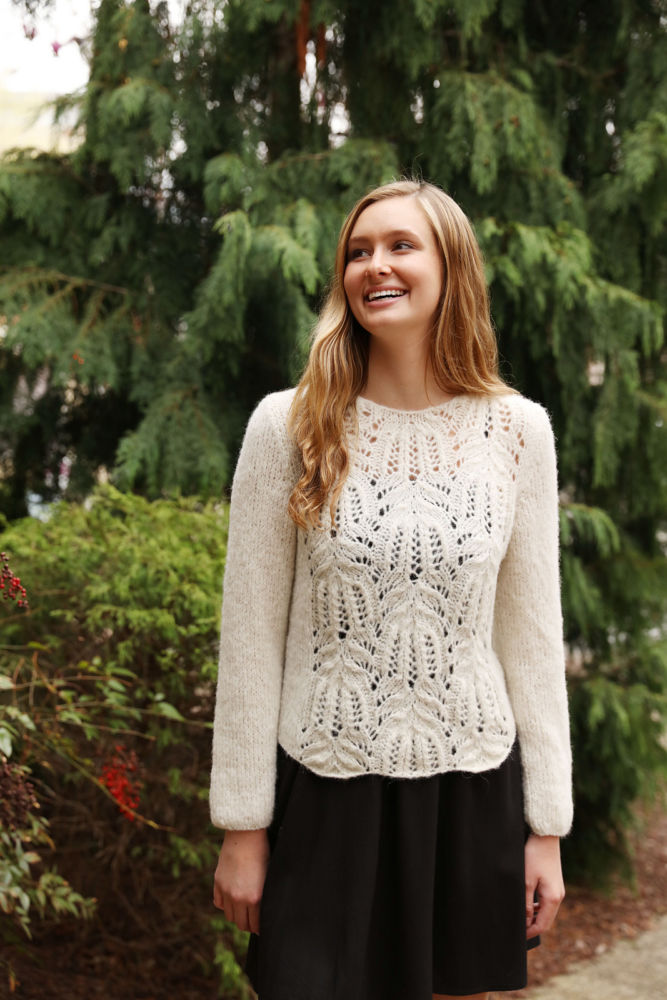 If a simpler project is on your mind then Pattern #3422 might fit the bill! This simple cardigan is worked in stockinette stitch with an easy to wear front opening and wide ribbed edges. Perfect for that cozy layer that matches everything! See pattern on Ravelry here.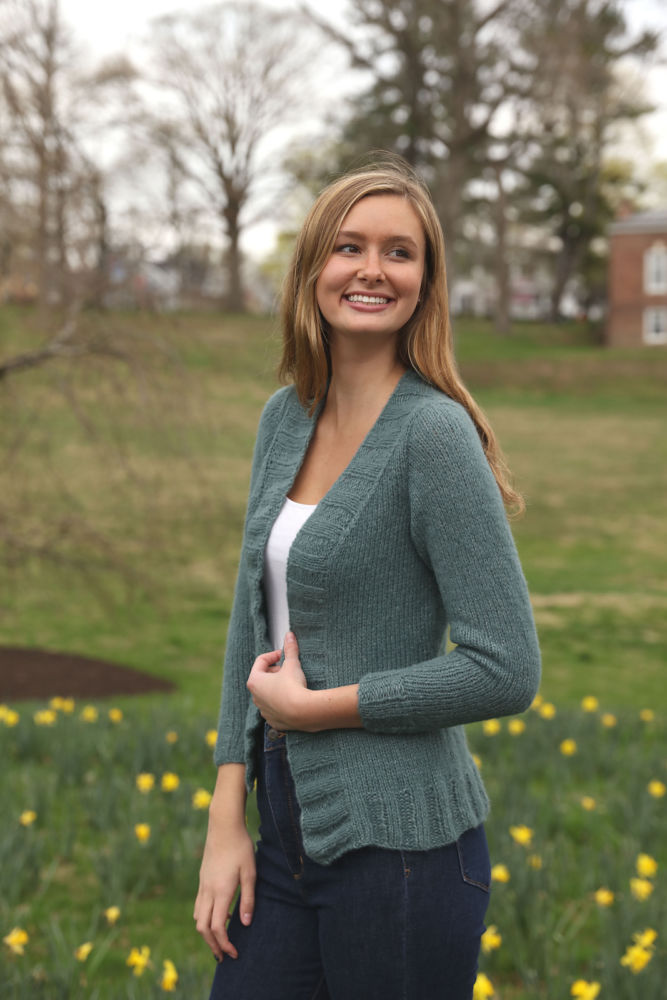 How about a fun free pattern? Pattern #f994 is a simple cabled scarf that would be a terrific gift for anyone! Find this pattern on Ravelry with our compliments.