Small Business Saturday and Winter Wonder Knits!
This year for Small Business Saturday we have a very special surprise planned, the Plymouth Yarn Design Team has been hard at work producing 4 exclusive Winter Wonderknit Designs! We know you need your winter pattern fix so we have 2 cardigans, a cute hat and cowl set AND a cuddly lap blanket all ready to go.
And since Plymouth Yarn ADORES Local Yarn Shops we want to give them as much support on Small Business Saturday as possible. So these 4 patterns are FREE for a limited time from any local yarn shop that carries Plymouth Yarn Company Yarn.
To find a local shop close to you that carries Plymouth Yarn see our shopfinder here.
Beat Feet to your Local Shop to get your hands on one or all of these great patterns, but only for a limited time!
If you are a Local Yarn Shop Owner and you already carry Plymouth Yarn Company Yarn>> WE LOVE YOU! Please keep your eyes on your inbox for a special pattern code to access these 4 exclusive designs on Small Business Saturday.
Nightwalk Cowl and Hat Set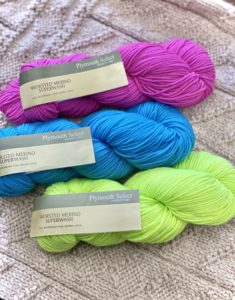 Nightwalk Cowl and Hat is a great winter set for DK Merino Superwash, this smooth 3 ply yarn has next to skin softness, the warmth of wool and the ease of superwash care. Try the bright neon shades of colors #1152, #1153, and#1154 to be extra visible when walking out at night. Or choose 4 colors from our huge selection of DK Merino Superwash and make a set for everyone on your gift list!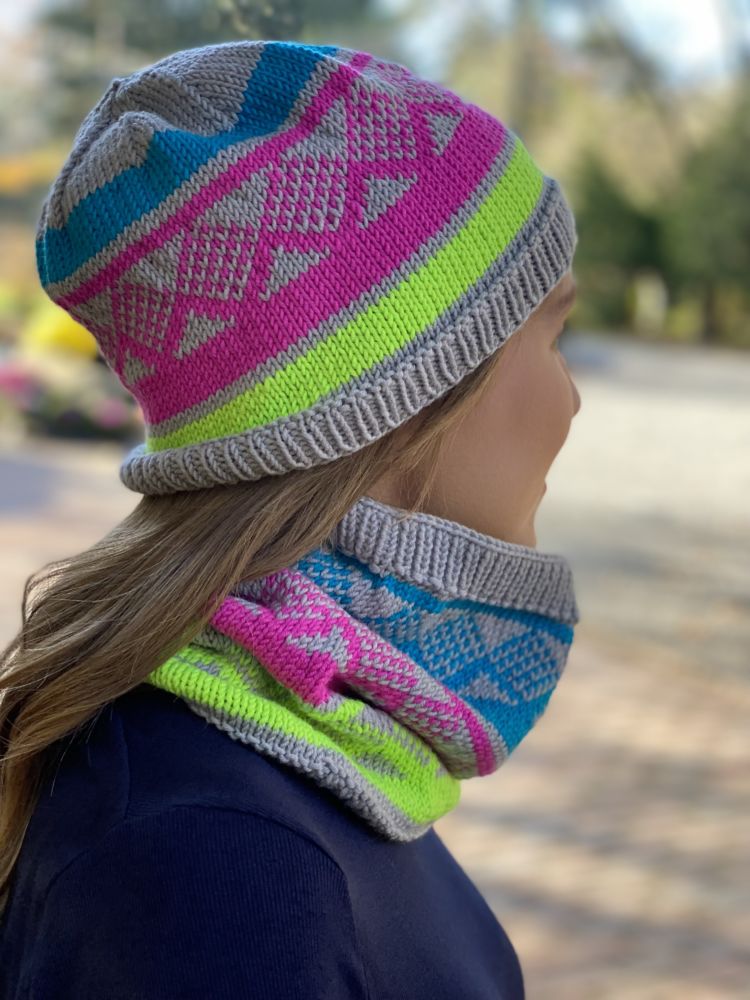 Sophia's 2 Color Baby Blanket
Worked in 2 colors of Worsted Merino Superwash this cozy lap sized blanket is perfect knitting for chilly nights. With over 100 colors of yarn to choose from the color combinations are almost endless, and if you are a big fan of the bright neons in the DK we JUST RELEASED them in the Worsted Weight, this adorable blanket is shown in the neon pink color #0101 Hot Pink Glow and color #55 Good Grey. 
Since this blanket is worked in Worsted Weight Yarn it's the perfect candidate for ANY of our worsted weight yarns. Want something really great for young kids and babies? Try Encore Worsted! Want a classic wool look and feel for an heirloom blanket? Try Galway Worsted!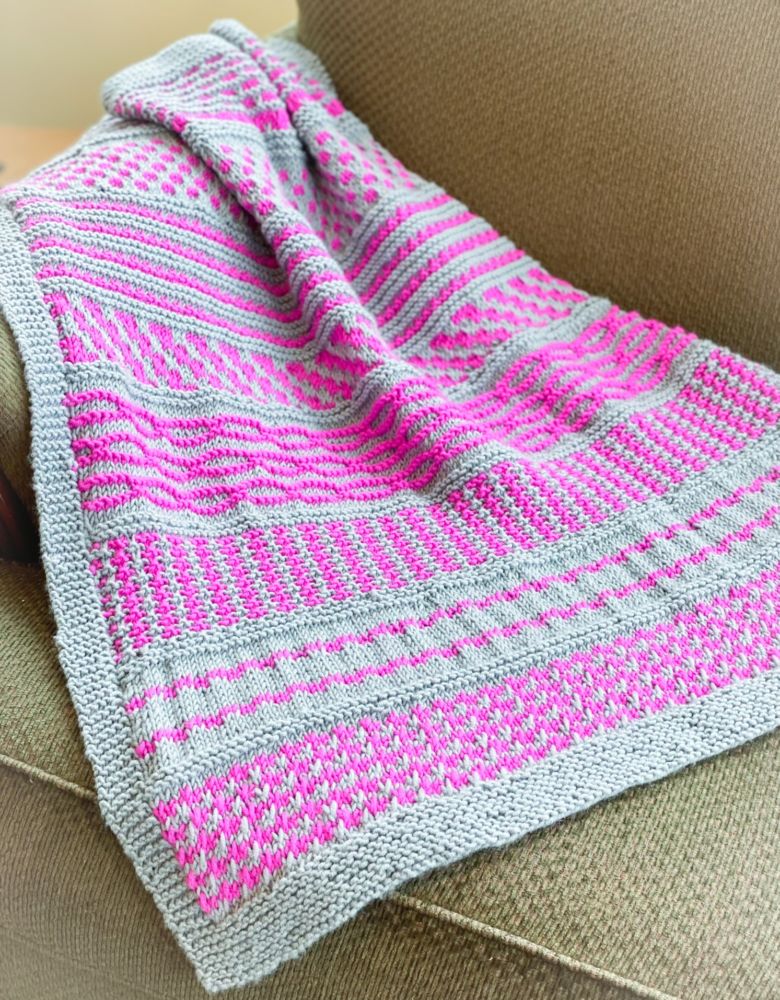 What's next you ask? Well how about 2 cozy cardigans?
Bay Cardigan
Worked from the top down all in one piece this seamless raglan has wide colored stripes and garter stitch texture. Galway Worsted, our classic 3-ply wool yarn is held double with Suri Stratus which is our brand new Alpaca laceweight release to create marled color stripes. We are talking seriously cozy for this cardi>> wool + alpaca = warm and soft!
You can go as wild or mild as you like for the color combinations, with over 75 colors of Galway Worsted and 8 shades of Suri Stratus there is color combination for everyone!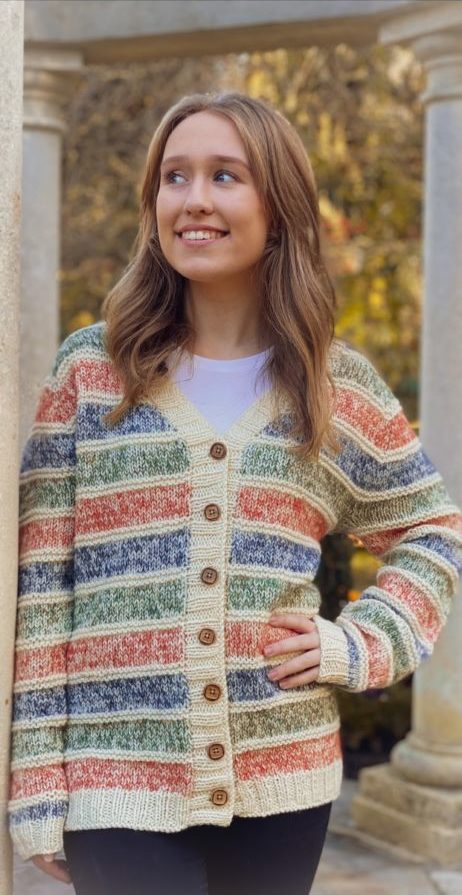 Sunset Cardigan
The Sunset Cardigan uses simple texture and eyelets to really show off the marled texture of our brand new Miradores. This DK weight cardigan is worked from the bottom up in one piece with minimal shaping and dropped shoulders. This easy to wear cardigan will be a wardrobe staple for years to come!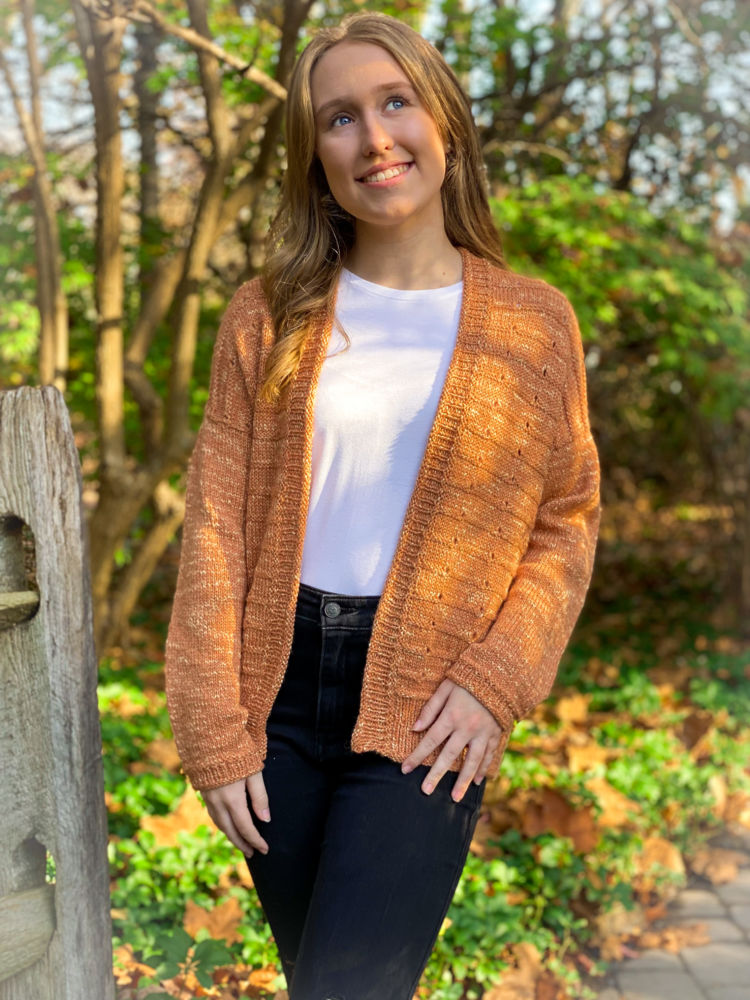 Remember! You need to shop LOCAL this Small Business Saturday to get these exclusive patterns for FREE from your Local Yarn Shop.
To find a local shop close to you that carries Plymouth Yarn see our shopfinder here.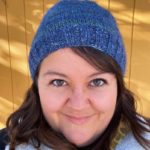 Meghan Jones is an artist who uses yarn as one of her mediums, she has designed knitting patterns for over a decade and recently published her own book of patterns. When she isn't knitting she is painting, cooking, gardening, practicing yoga, weight training, or spending time with her husband and their 4 children. You can find her at www.littlenutmegproductions.com on Instagram, Facebook, and Ravelry.