Yarn Review: Suri Stratus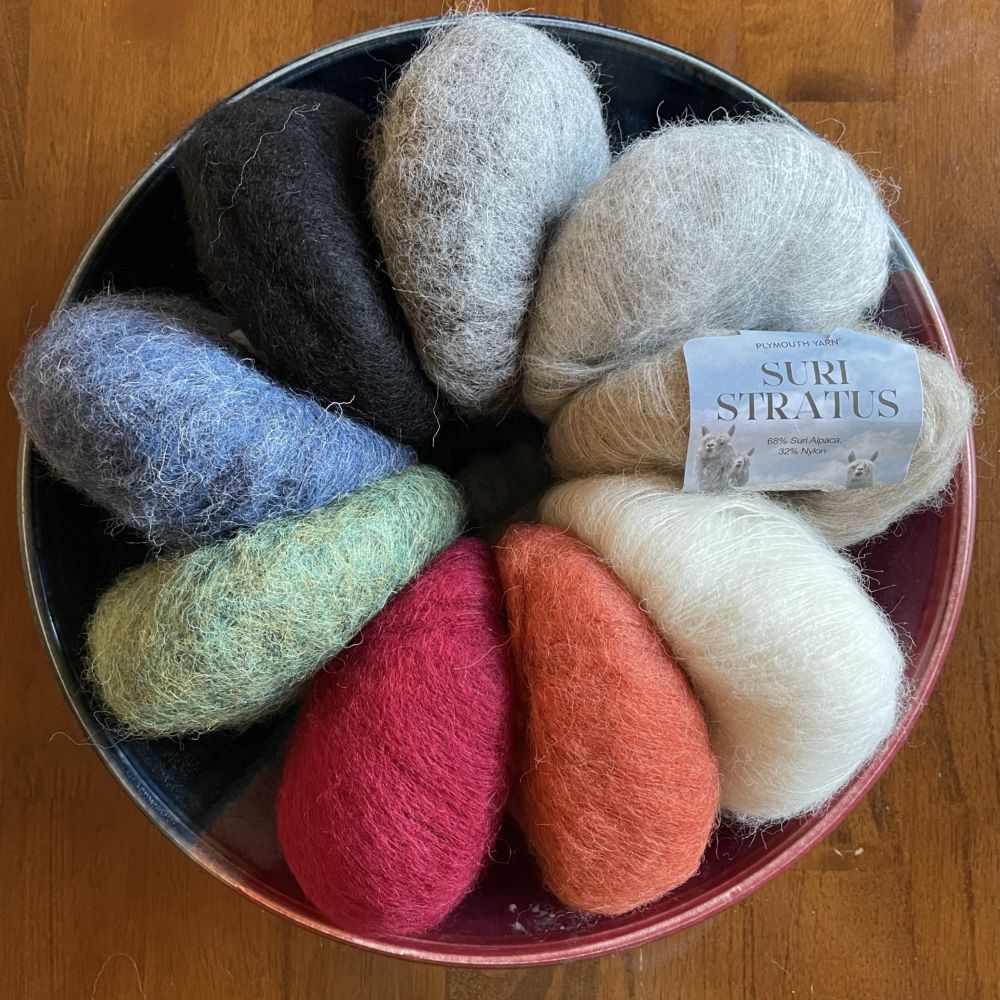 Welcome to Plymouth Yarn Review with Meghan Jones, here we will take an in depth look at the newest yarns from Plymouth Yarn Company, their qualities and quirks and projects you should definitely try knitting with them.
Suri Stratus
NEW!!! Suri Stratus is a brand new 2022 release, this lace weight alpaca blend is fluffy, light and oh so warm.
Weight: Lace- although this yarn is technically  lace weight yarn it knits up at a 4 ½ -6 sts per inch.
Yardage: 274 yards = 0.88oz/250 m = 25g
Materials: 68% Suri Alpaca, 32% Nylon.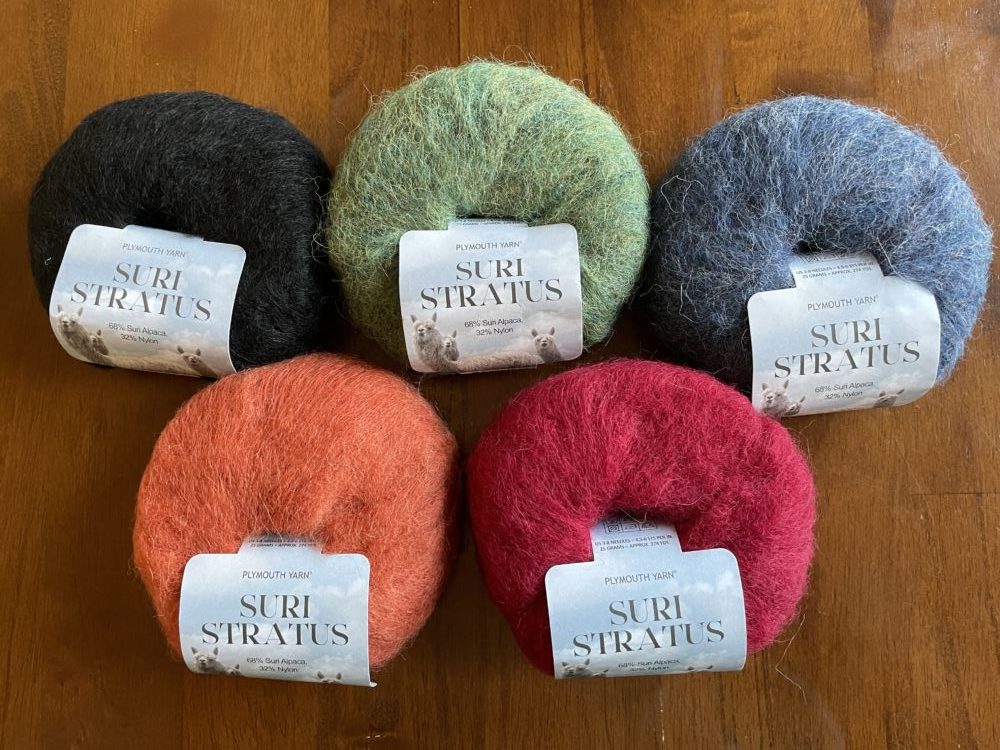 Colors: 9 colors
Suri Stratus is available in 9 colors, 5 neutrals- Natural, Black, Charcoal, Light Grey and Taupe, and 4 saturated jewel tones- copper (orange) denim (blue) olive (green) and burgundy (red). Within this color palette the Natural, Black, Taupe, Copper (orange) and Burgundy (red) are the most solid and saturated colors and have very little variation within the colors. The remaining colors have beautifully subtle variation of the shades within the alpaca fluff (oh yes, that is the technical term!).
Since this yarn is a lace weight yarn with the alpaca fluff spun into a thin nylon core it is an excellent substitution for- you guessed it- mohair! If you have been drooling over those light as a feather ethereal mohair sweaters but can't wear mohair then Suri Stratus is an excellent alternative.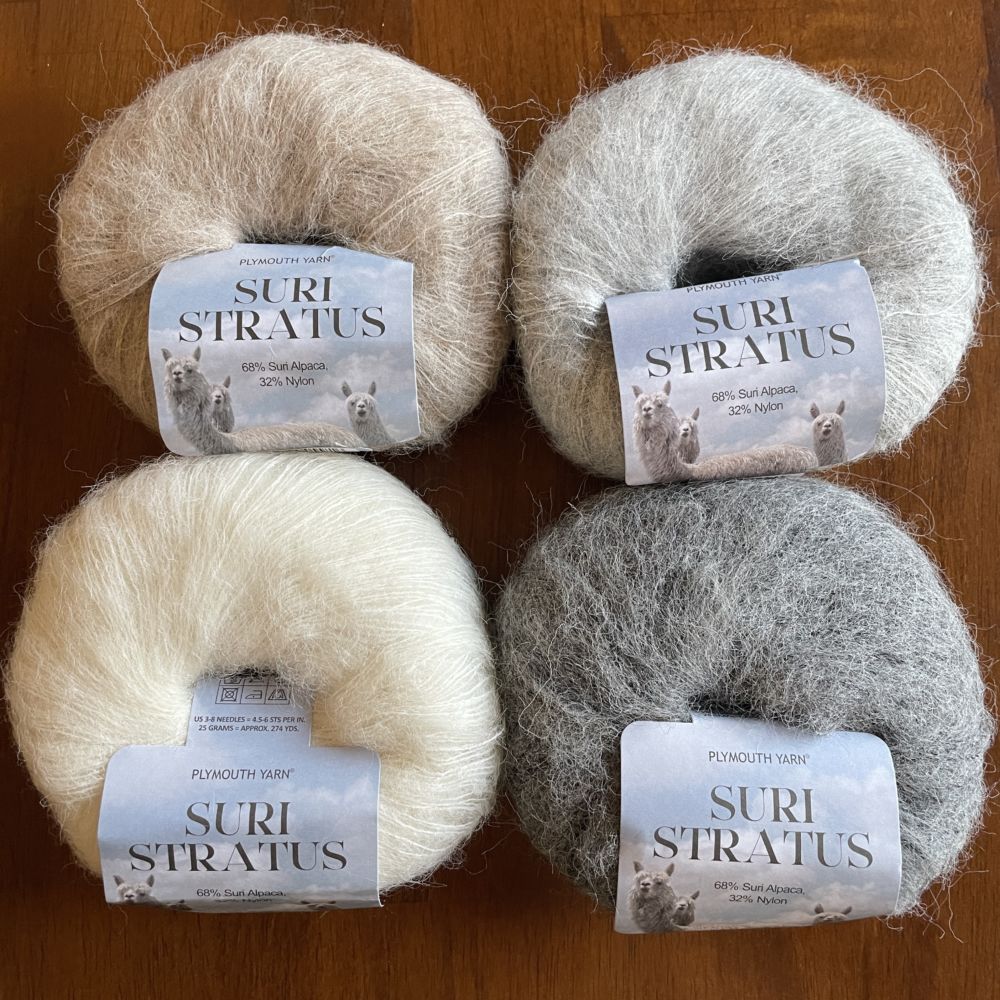 How does it knit up?
When knit single strand Suri Stratus is light and airy, it almost floats away from the body and because the fibers have so much air in between them they act as a warmth trap. Held single this yarn creates a fabric that is very transparent and surprisingly warm, think about a layering tee that can be worn over a shirt and under a cardigan for an extra winter layer.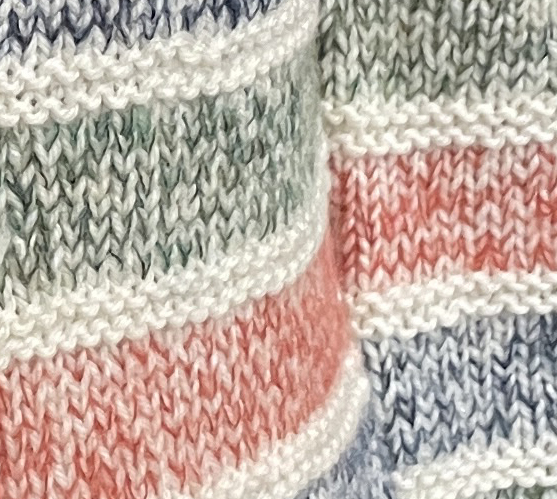 When held double with another yarn Suri Stratus takes on the drape characteristics of the thicker yarn and adds an extra element of warmth, fuzziness (another technical term) and color marling. If you want to really emphasize the beauty of color marling then make sure there is a lot of contrast between the base yarn and the Suri Stratus as in the example above. If you want a more subtle effect then try to match the colors closely, Galway is an excellent yarn to hold double with Suri Stratus and it comes in 67 colors!
What should you use it for?
Oooo baby! I'm glad you asked, let's start with holding Sure Stratus single shall we? I think that this Poncho is the perfect pattern for Suri Stratus- pick your three favorite colors and stripe it up with this simple knit.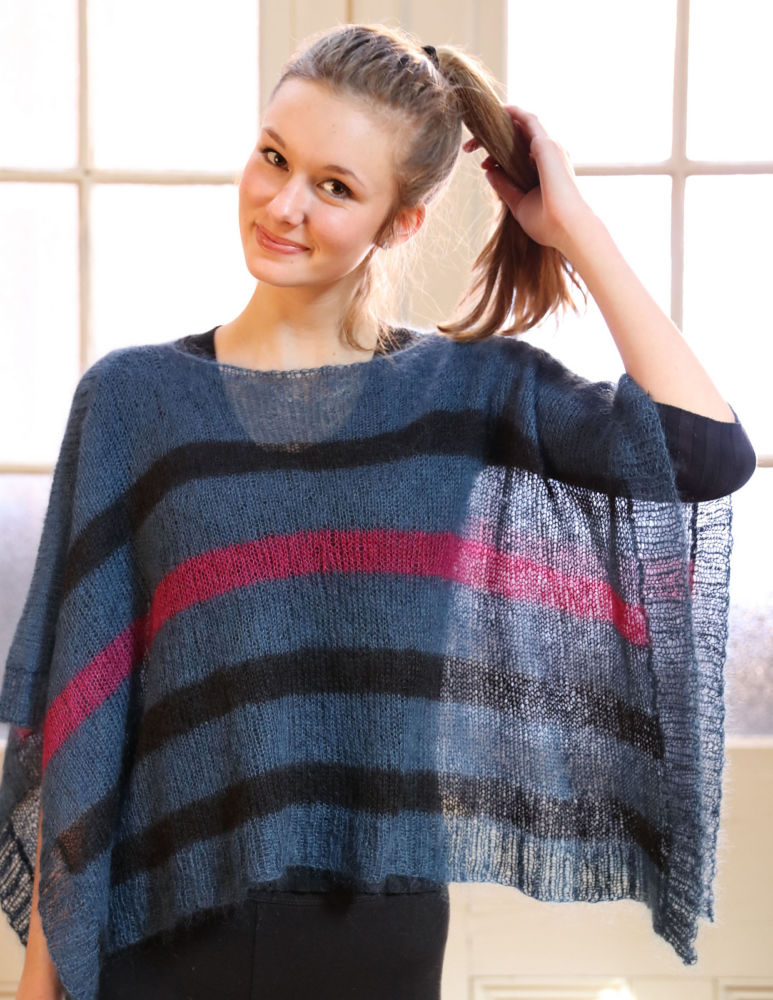 Looking for a FREE pattern? Try this Long Striped Scarf, it uses 1 ball each of 4 different colors for a rectangle knit longways with thick stripes = classy and in style forever!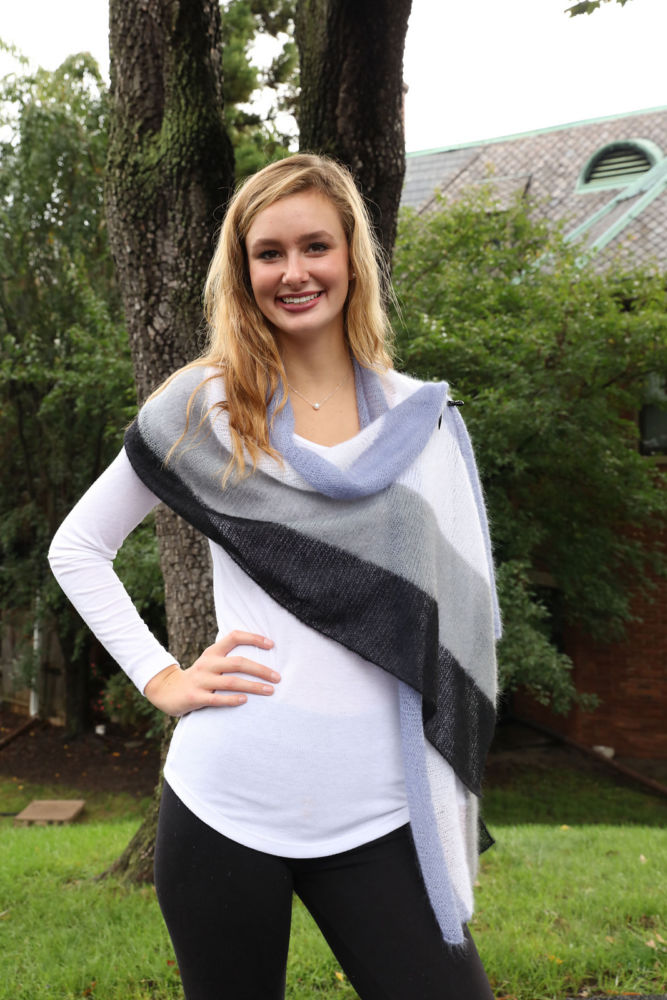 Now let's talk about stranding this yarn along with a thicker yarn, choose your favorite DK weight and hold it double with the Suri Stratus for these patterns-  I would choose Miradores– that yarn is FAB!
The Magnolia Pullover is a top down Raglan that is mostly stockinette with a few garter stitch details, this pattern would look excellent with Suri Stratus held double for a marled fabric.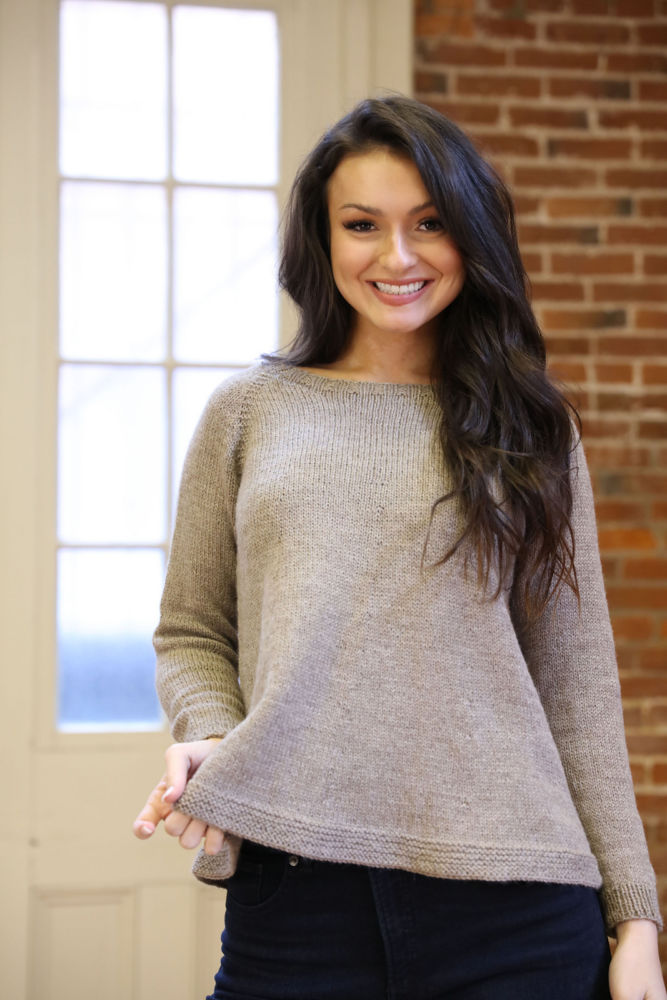 Finally this Mini Jacket is the cutest cropped tie front cardigan, just the right amount of texture and if you held the Suri Stratus double you will get that fluffy look.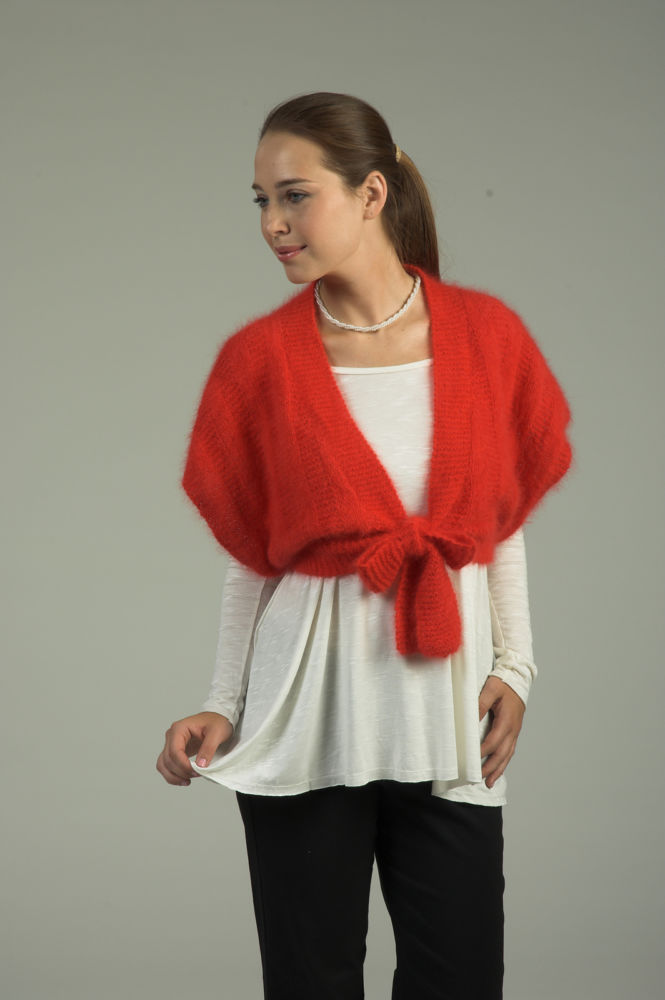 Share your photos! Have you knit something with Suri Stratus? Plymouth would LOVE to see it! Share your photos on Instagram with the hashtag #suristratusyarn and show us what you made!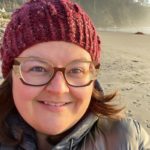 Meghan Jones is an artist who uses yarn as one of her mediums, she has designed knitting patterns for over a decade and recently published her own book of patterns. When she isn't knitting she is painting, cooking, gardening, practicing yoga, weight training, or spending time with her husband and their 4 children. You can find her at www.littlenutmegproductions.com on Instagram, Facebook, and Ravelry.