Cielo Yarn from Peru
The Ultimate Winter Bulky-yet-Soft Yarn
Winter is simultaneous with "cozy sweater weather." Plymouth Yarn has the secret tool for your ultimate comfy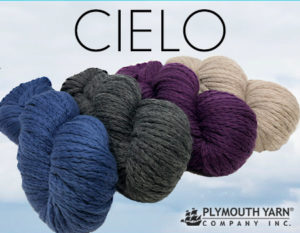 winter sweater: the Cielo yarn. The Cielo yarn hails from Peru packed with soft warmth in its bulk. The best part of the Cielo yarn? Even though it has the staple heavy winter look, it is as light weight as your summer bikini (or near to it).
Stock up on Cielo this fall to prepare for the winter while you can, you will love slipping this yarn over your needles!
Cielo Love
"Love Knitting" says: 'Very big and very soft' is really all you need to know about this larger-than-life yarn. Yes, it's a super-bulky weight yarn but the secret to its airy and light texture is in its chainette structure. With 80% fine merino wool, it'll keep you warm and cozy too.'
Contents:
80% Fine Merino Wool, 20% Nylon / Hand Wash, Dry Flat
Gauge:
2.25 sts = 1″ / US 15 Needle
Yardage:
109 yards
Weight(s):
Super Bulky
Put Up:
5x100g skein
Collection/Brand:
Plymouth Brand
What to Knit with Cielo
Do you have knitter's block? Thankfully we have a plethora of knitting patterns at your convenience! As you have probably guessed, the best type of garments to create with Cielo are of the bulky variety. The classic comfy sweater is at the top of our list.  Put a twist on the sweater and knit a vest for the transitional fall season, or to overlay on a long-sleeved tee in the winter. Cielo yarn is also the perfect yarn choice for a warm and height weight blanket for the upcoming chilly season! We also have other yarn patterns suitable for the Cielo yarn on our website, please browse through til you find the perfect knitting pattern!