Encore, our most popular yarn to date, is loved by all!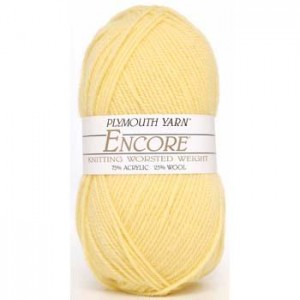 Encore Worsted
Yarn Content: 75% Acrylic, 25% Wool
Yarn Gauge: 5 sts = 1″/US8 needle
Yarn Length: 200 yds/100g ball
The softest, most versatile yarn in the whole yarn market, Encore Worsted is known by name nationwide. Boasting over 150 colors, this is the go to yarn for any project. Our durable blend of Wool and Acrylic is machine washable and dryer safe. Babies, Kids, and Adults can wear this yarn comfortably.
Our patterns are immense for this yarn- it is so versatile in many, many designs from the simply stockinet to the advanced cabling patterns.
JoAnne, our Creative Director, has been designing easy blankets for babies, kids, teens, and adults. Her secret to quick knitting? Use Encore Worsted double stranded with size 13 knitting needles for an effortless, rewarding result! You can find these pattern books, #636, #638, and soon to be released #644 at a yarn shop near you.
One of our knitters, Laurie, has made a toy dog using Encore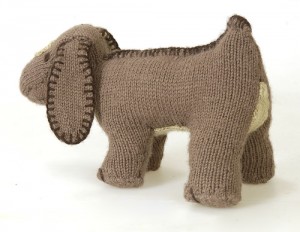 . pattern information is available here