The yarn we all can't stop talking about! We've described other yarns as soft and weightless. But we were wrong. This is the softest, most luxurious weightless yarn we've ever made.
Did you know that baby alpaca wool was once a luxury reserved for Royalty? A former common name for this soft textile was "The Fiber of the Gods." Once you get your hands on this unbelievably soft, silky and warm yarn you will understand why. Plymouth's Yarn, the "Viento" yarn is 70% comprised of baby alpaca fiber and 30% bamboo. The chainette construction provides strength and drape for various garments. The 30% bamboo qualities offer eco-friendly, insulating fiber. As if the other amazing qualities of the Viento yarn aren't enough, don't forget that baby alpaca and bamboo fibers are a hypoallergenic duo!
Plymouth Yarn has fabricated nineteen different colors and shades for our knitters' assorted and diverse projects.
What to Knit with Viento
The Viento yarn is chunky and perfect for knitting scarves, hats, and blankets. Our "Viento-geared" patterns include a pattern for a luscious, warmth-providing blanket, poncho, headband/wrap, infinity-style scarf, and one one of our favorite duos- a cable knit hat and scarf. See some of our knitting patterns we recommend using this yarn for in the collage below. What would you knit with the Viento yarn from Plymouth Yarn? Tag us on Facebook and Instagram in your creations!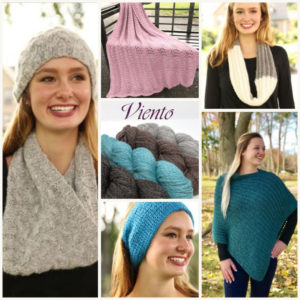 See what others are saying:
"A luscious, sumptuous blend of baby alpaca and bamboo in a quick to knit chunky weight. Perfect warmth for scares, mittens, cowls, hats and afghans!" – Kayewood.com
Viento Yarn Specifications:
Contents: 70% Baby Alpaca, 30% Bamboo / Hand Wash, Dry Flat
Gauge: 3.5 sts = 1″ / US 10.5 Needle
Yardage: 98 yards
Weight(s): Chunky
Put Up: 10x50g skein
Collection/Brand: Plymouth Brand