Confusion is a wildly interesting yarn introduced 2 years ago by The Plymouth Yarn Co.  It is composed of up to 20 different novelty yarns- colorfully connected in a manner unseen until that day.  This yarn is much like some in the marketplace today that sell for more than twice the price.  For this reason alone, it is worth checking out Confusion.  Give your Spring wardrobe some pizzazz this year-with Confusion.  Visit our website's pattern listings for several fun ways to use this yarn.
Here is a very simple pattern for a versitile, fast, and fun wrap using 3 hanks of Confusion.  A quick knit- it can be worn in many different ways.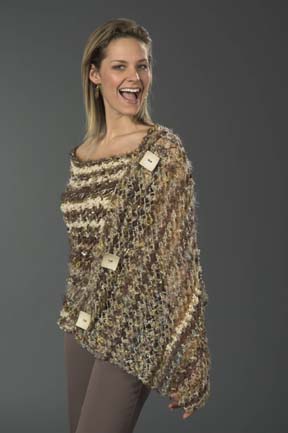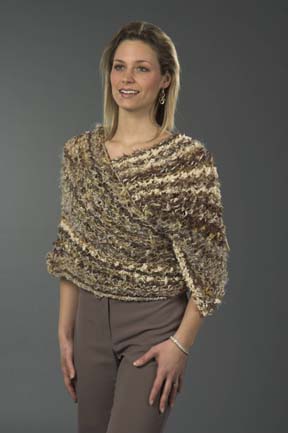 Enjoy!
JoAnne
Confusion Pattern 1223
Finished Size:  Approx 18" x 50".
Materials:  3—109 yd hanks Confusion
Gauge:  8 sts = 4" on a US 13 needle over pattern st with Confusion.
Needles:  24" US 13 (and size 15 for cast on and bind off), or size necessary to obtain given gauge, 3 large buttons from Dill Buttons.
With larger needle, loosely cast on 101 sts.  Change to smaller needles and begin pattern:
Pattern row:  P1, *(yo, p2tog); repeat from * across row.  Repeat row 1 for pattern.
Note:  Pattern row may also be worked as:
K1, *(yo, k2tog); repeat from * across row.
Work in pattern st until almost out of yarn and total length is at least 18".  Change to larger needle and bind off loosely.   Sew on 3 large buttons along one end.
Wrap as desired, buttoning at any point, in any direction, as desired.