Nako Natural Bebe Yarn
Snuggle – Approved Yarn
Natural Bebe is, true to its French-inspired name, perfect for baby-wear. The yarn is comprised of Bamboo, Cotton, and Acrylic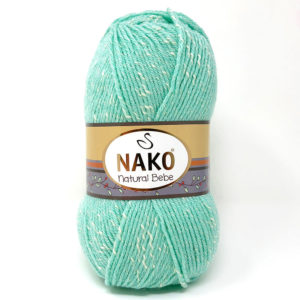 which together provide snuggle-worthy garments for baby or you. Bamboo is well known for its soft, touchable quality, and this is evidently present in the Natural Bebe yarn. This triple material yarn was designed by Plymouth Yarn and manufactured from Turkey.
Yarn Love
Spinnin' Yarns says, "Nako Natural Bebe is a luscious blend of bamboo, cotton and acrylic.  The feel of this yarn is fabulous."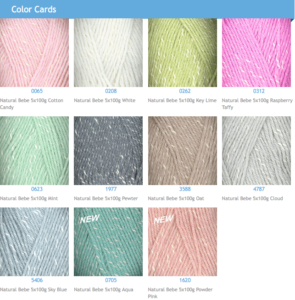 Our Natural Bebe Comes in 11 soft, pastel colors perfect for baby's room or hanging in your closet.
Natural Bebe is a non- wool yarn that's perfect for babies as well as snuggle loving adults. The hand is amazingly soft due to added cotton and bamboo which give it a tweedy look as well as softness. This light worsted has amazing yardage.
Contents:
76% Acrylic, 14% Cotton, 10% Bamboo / Machine wash gentle, tumble dry low
Gauge:
5 sts = 1″ / US 6 Needle
Yardage:
247 yards
Weight(s):
Worsted
Put Up:
5x100g ball
Collection/Brand:
Nako