New Shades of Pendenza!
A favorite cotton yarn in new colors
Yes, we k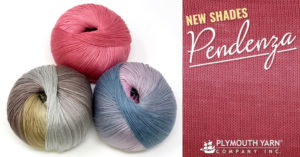 now, you think of Pirates of Penzance whenever you see our yarn Pendenza! You will definitely be able to make sweet yarn music with this self-strip yarn. Featuring a tight cable-ply, this DK weight yarn is manufactured in Italy out of 100% Egyptian Mercerized Cotton. This cotton from the hot climates of Egypt is perfect for warm and hot weather garments.
Pendenza means "slope" or "gradient" in Italian and it is a perfect description for how the colors show themselves in long stripes. The gradient of this yarn will make any garment pop off in subtle hues and textures.
Contents:
100% Egyptian, Gassed and Mercerized Cotton/Machine Wash Cold, Tumble Dry Low
Collection/Brand:
Plymouth Brand Italian Collection