Passion Ice is the yarn of the day! If you have any kind of Holiday party to attend this yarn is a must have.  The metallic sparkle that runs throughout is perfect for your dressy occasions and everyday wear.  Available in 5 shimmery colors.  It's an easy knit with a 7 stitch cast on and you are done in no time.
Thanks to The Gourmet Yarn Co. for sharing this great photo!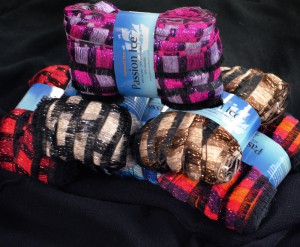 Click here for the Passion Ice free scarf pattern on Ravelry.
Call your yarn shop today and get your hands on Passion Ice!