On September 17th, The Knitty Gritty yarn shop, in Vero Beach, FL, celebrated their 4th anniversary. They partied in style with refreshments and door prizes.  They even had a visit from Plymouth Yarn President, Dick Power!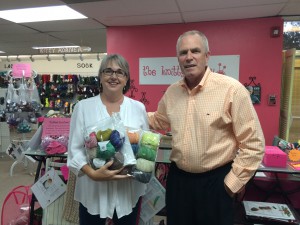 Dick Power and Knitty Gritty owner Anna Gales
They are celebrating all month long with a Plymouth Yarn trunk show and sales on Plymouth products!  If you are in the area of Vero Beach, FL, be sure to stop in and say hi.  You can find the Knitty Gritty on facebook too.