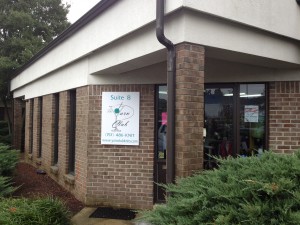 This is the first episode of my travelling search for the most interesting and beautiful yarn shops in the Southeast. Feel free to comment or make suggestions for a future story on your favorite shop!
**********************************************************************************************************************
Andrea Riddle,  illustrator, wife and mother of two amazing girls, opened her shop, "The Yarn Club" in Virginia Beach, in March of 2011. It is jammed to the rafters with beautiful yarns from all over.  Andrea is rightfully proud of her status as "the largest selection of hand dyed yarns" in the area. I would venture to say it is one of the largest selections of hand dyed yarns, anywhere. The store is filled with large name companies and many small companies and Indi-dyers.  Be sure to go and see for yourself. Like me, Andrea has had many different careers in the past, but I find it very interesting that her family has raised soft-shell crabs, a licensed aquaculture business, right on their property. In addition to their daughters, she and her husband Jeff are also raising many pets, including an adorable bearded dragon, named Lizzy.  The Yarn Club has several great instructors: Debbie, Kiki, Hazel and Chuck, and offers a full schedule of classes at www.yarnclubknits.com, and a really rockin knit nite, Thursdays. I have a feeling this shop attracts quite a few of the hip knitters of VA Beach. The shop is also active on Ravelry at http://www.ravelry.com/groups/the-yarn-club-inc and on Facebook at http://www.facebook.com/#!/Theyarnclub.  Everyone is welcome to join them any
time in the store or online.