No matter where you live, there is sure to be a yarn event somewhere near you over the next couple of weeks.  Since there are so many, we've decided to list as many as we can right here in a neat little post.  Click on the links for each event for more detailed information.  Have fun and happy knitting!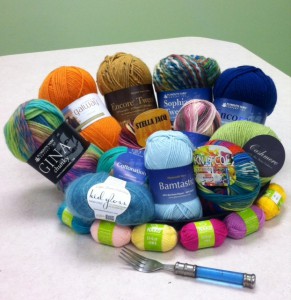 September 5th -20th The 7th annual Yarn Discovery Tour has begun with hundreds of fiber enthusiasts starting to crisscross Northeast Ohio
September 12th  6:30-8:30 pm The Knitter's Edge in Bethlehem, PA will be tasting the newest and finest yarns of The Plymouth Yarn Company
September 13th-21st Yarn Along The Rockies is a 9 day yarn crawl with a Passport Tour of 24 participating yarn shops across the front range of Colorado.
September 13th-21st Gather your friends together and have a fun time as you visit great yarn shops and vie for a chance at terrific prizes at the 8th annual Atlanta Shop Hop
September 18th-21st San Diego Yarn Crawl. Come join in on a fun and exciting yarn crawl in San Diego, California. Meet lots of friendly shops and alpacas. Then shop for lots of exciting new yarns.
September 19th-21st North Country Fiber Fair Watertown, SD. The mission of the North Country Fiber Fair is to host an annual event, on the 3rd weekend of September, that provides educational and marketing opportunities for producers, fiber artists and consumers of natural fibers
September 19th & 20th Indiana and Illinois Fall Bus Shop Hop.
September 26th-28th The Western Connecticut Yarn Council presents the Fiber, Friends and Fun Yarn Crawl! 7 shops and 3 fiberlicious days of fun!
October 10th-19th The 8th annual Hill Country Yarn Crawl, the best little yarn crawl in Texas!  Ten fun-filled days crawling your way through 13 yarn shops around and about central Texas.
October 21st-26th Central Kansas Yarn Hop The Central Kansas Yarn Hop lets you gather your friends and support local yarn shops across central Kansas. Shop local!
I'm sure this is just a fraction of the many wonderful yarn related events happening, comment below or contact us if you'd like us to add your event.
So get in your car and go!  There are great prizes and new yarn discoveries just waiting for you in your local yarn shop.