Baby Alpaca DK is a great lightweight yarn for the winter. The luxury of supersoft baby alpaca can be yours without the heaviness of a worsted or chunky weight.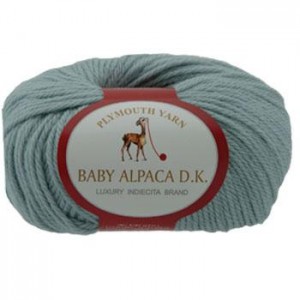 Here is Baby Alpaca DK's stats:
Yarn Content: 100% Baby Alpaca
Yarn Gauge: 5.5 sts = 1″/US6 needle
Yarn Length: 125 yds/50g ball
I've known this yarn for a long time, being an avid alpaca fan. I've knit several sweaters using BAD, including a cream bunny all-in-one and a tri-colored ladies pullover. The ease of knitting this is remarkable, and would be a great yarn for a beginner who wants to try their hand at a little luxury.
Here are a few of my favorite quick knits using Baby Alpaca DK. I'm thinking Christmas presents!