Hearthstone
A 2-ply yarn with the bounce of merino and the halo of alpaca, hearthstone is a lively yarn to knit with. The generous 436 yd/398m skeins knit up at a sport weight gauge and are available in 12 shades, 9 subtle heathers and 3 marled with 2 colors wrapped around each other. The 2-ply construction makes this yarn excellent for lace stitches, and when worked into stockinette will imbue the surface of the work with loads of texture and visual interest.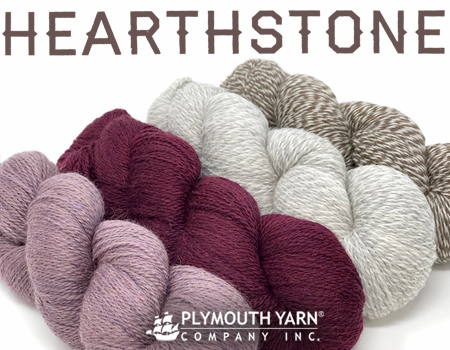 Let's talk hard stats:
Weight: Sport Weight
Yardage: 436 yards = 3.5oz /398 m = 100g
Materials: 80% Highland Wool, 20% Alpaca
Colors: 12 colors
Hearthstone has 9 beautiful heathered shades, and 3 graphic marled shades.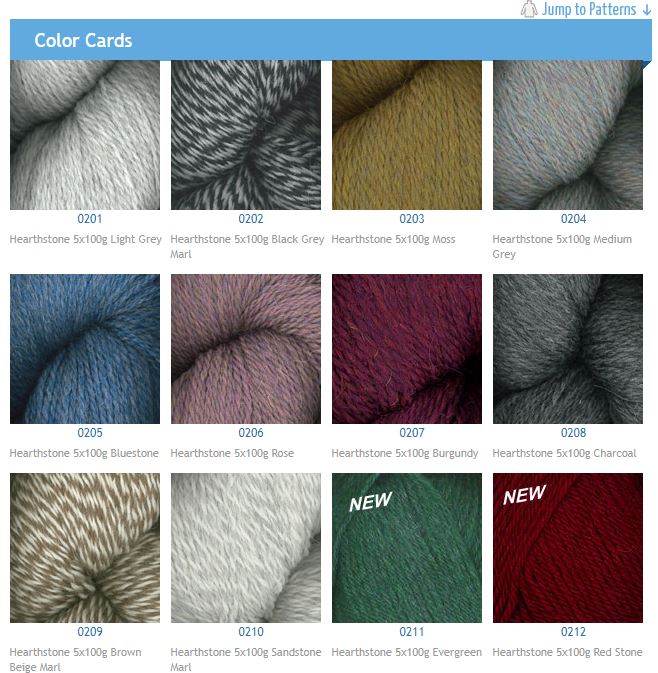 How does it knit up?
Hearthstone is a springy knit, the merino wool is soft and smooth while the addition of the alpaca gives the yarn a slight halo, especially when blocked. This is a refined blend of wool, it looks earthy and wholesome due to the marled shades and heathered solids  but it feels smooth and soft.
What should you use it for?
Since Hearthstone is a 2-ply yarn it will give stockinette a lively bouncy look, the stitches will be full of texture and movement so be prepared for a great deal of motion in the surface texture. When worked up in a lace pattern the 2 strands of Hearthstone push away from each other creating an open lacey fabric. When worked up in a cabled pattern this yarn will have medium definition, cables will show up but will not be as crisp or defined as a 3 ply yarn.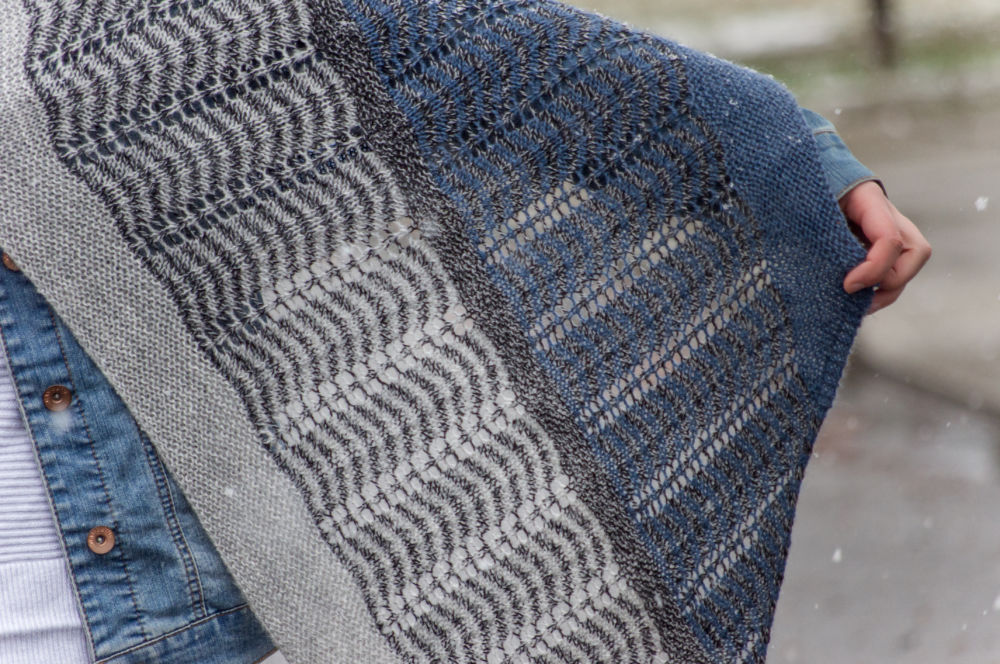 Hearthstone will create colorwork that is dreamy and blurred, you could try using it for a colorwork pattern that has close shades for a gradient effect.
Deep, calm and wide, the slow-moving river slips gently past. Its' clear flowing water and unplumbed depths continue without interruption, an unhurried pace that is outside of time and change. Sink into the easy rhythm of garter stitch and chevron lace in a meditative bias lace wrap worked lengthwise in one piece.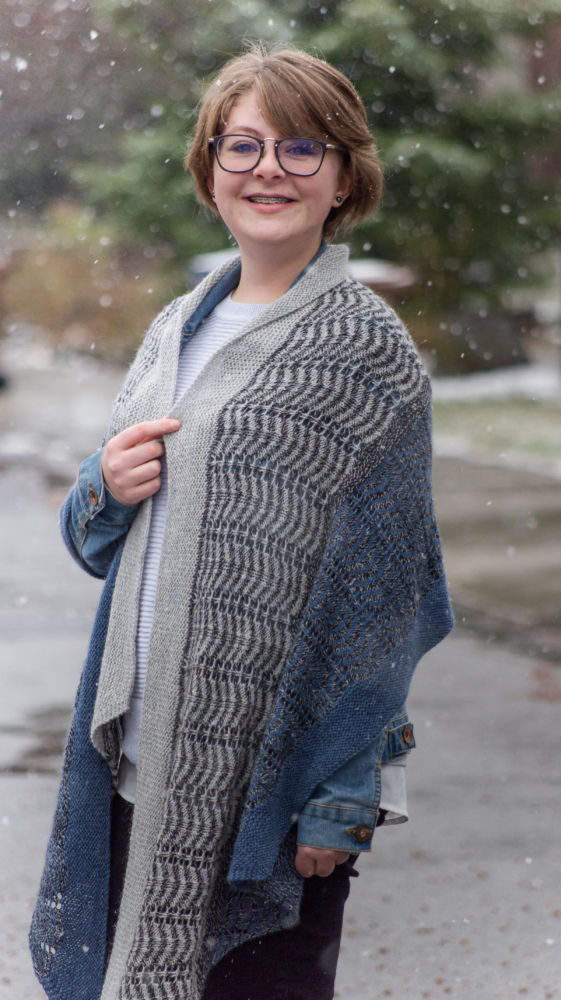 Deep River Wrap is a great way to show off your 2 favorite heathered shades and single marled shade of Hearthstone. Worked on the bias for excellent drape this simple wrap has an addictive combination of garter stitch and chevron lace that is calming to work. A modern take on a lace wrap the 2 row stripes with the zig zag chevron pattern is a great choice for someone who likes minimal, contemporary patterning.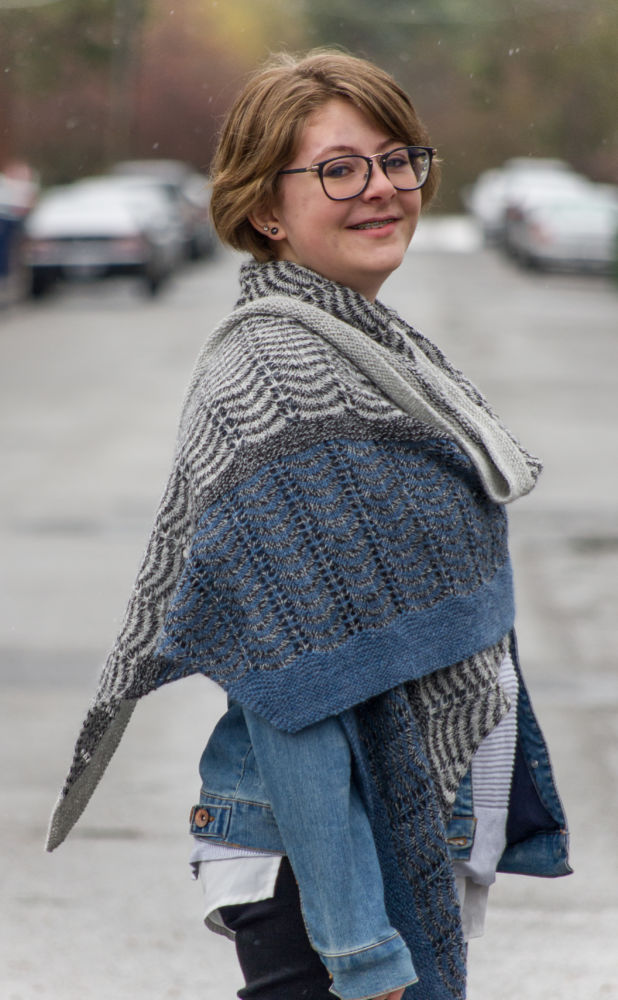 The chevron pattern is written and charted, and the colors are carried up the side of the striped sections with a curling stockinette edge to hide the wraps.
You can buy this pattern on Ravelry
Color Combinations
Try working the Deep River Wrap in the shown combination of MC: #205 bluestone, CC1: #202 black/ grey marl, CC2: #201 light grey, or see the possible color combination ideas below.