Are you  still wearing your scarves and trusty cowl when you leave for the office in the morning?   I did take the fingerless gloves out of my pockets.  We are ready for Spring!  I will finish up my last warm and fuzzy WIP this weekend then I will count all the little sprouts in my garden, maybe even buy some mulch.  Of course, I'll be waiting at least a couple of weeks until my husband gets all my gardening tools out from behind the snow blower and shovels in the shed.  So since I know I'll be waiting, I have a little project in mind and wanted to share with you.
Let's talk about Whitney, which is new this spring. Whitney is an aran weight 91% cotton, 9% nylon blend and available in 16 rich colors that are just perfect for so many projects.  Whether you are using it for babies, kids, adults or home accessories,  you will not be disappointed.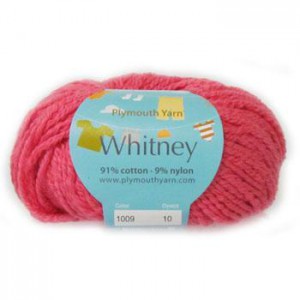 Here is a great project to get you started.  I'll be making a bunch of these bibs as there is always a baby coming and mom can never have enough. What a special gift this bib will make.  That's why you need to make at least two, one to use and one to cherish!   Visit your favorite yarn shop and ask for Whitney today!
WHITNEY
Baby Bib
F386 Whitney Baby Bib PDF Download
Size:  1 size
Materials:  1- 50g ball Whitney; size 7 needles,
1 button.
Gauge:  4.5 sts =1" over garter st.
Bib:
Loosely cast on 4 sts.
Row 1: Knit.
Row 2: K2, yo, knit to the end of the row.
Repeat Row 2 until you have 45 sts.
Begin decreasing as follows: K1, k2tog, yo, k2tog, knit to the end of the row.
Repeat this last row until you have 26 sts left.
Next row:  Bind off 20 sts, knit to the end of the row: 6 sts left.
Make Strap:
On the 6 remaining sts, knit every row for 7".
Make buttonhole:  Next row:  K1, k2tog, yo twice, k2tog, k1.
Knit 7 more rows even.
Work buttonhole row, followed by the 7 plain knit rows- twice more for 3 buttonholes in all.  You will be ending with 7 knit rows.  Bind off on next row.  Sew on a 1" button as shown in photo.  You have 3 length adjustments possible with the 3 buttonholes.  Weave in all ends.
©2011 Plymouth Yarn Company.
All rights reserved.  092011jbt