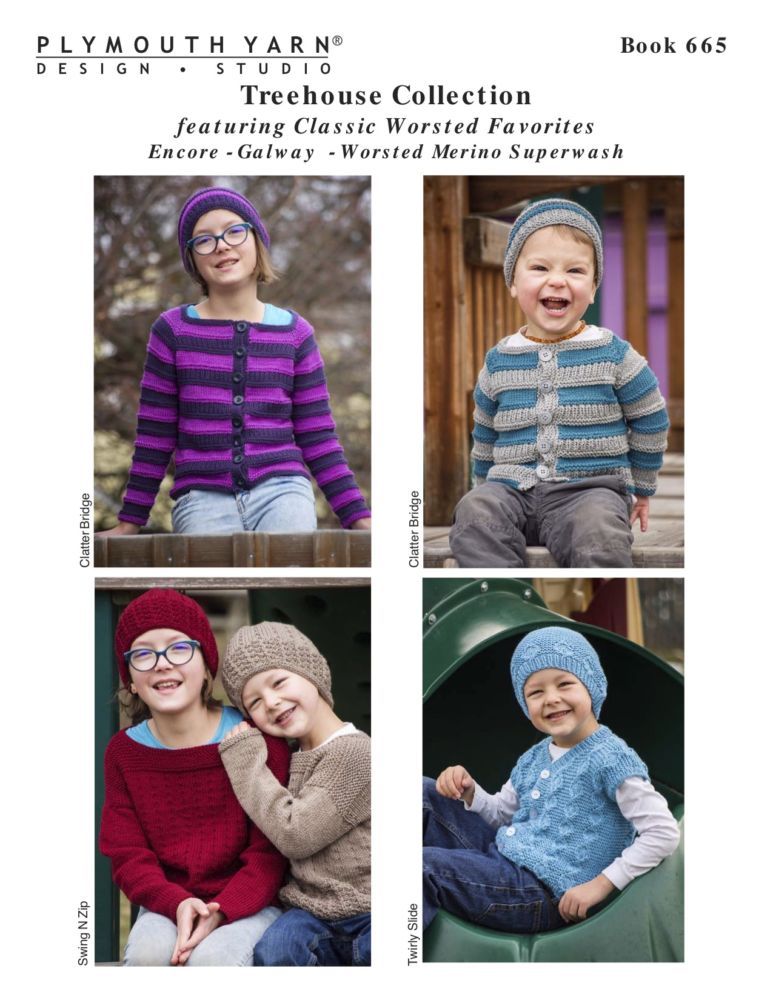 Treehouse Collection
What makes a great kid sweater? Multiple sizes to choose from, simple construction, fun to knit stitch patterns and most importantly an easy care yarn that is cozy and soft! The Treehouse Collection designed by Meghan Jones is all of those things and more, a collection of patterns for a cardigan, vest and pullover for kids 3 months to 12 years. Written in 10 sizes for worsted weight yarns this fun collection uses simple stitch patterns and easy silhouettes with minimal seaming for great kids sweaters that you will want to knit again and again. Each pattern also comes with a coordinating hat pattern also written in 10 sizes that compliments the garment texture.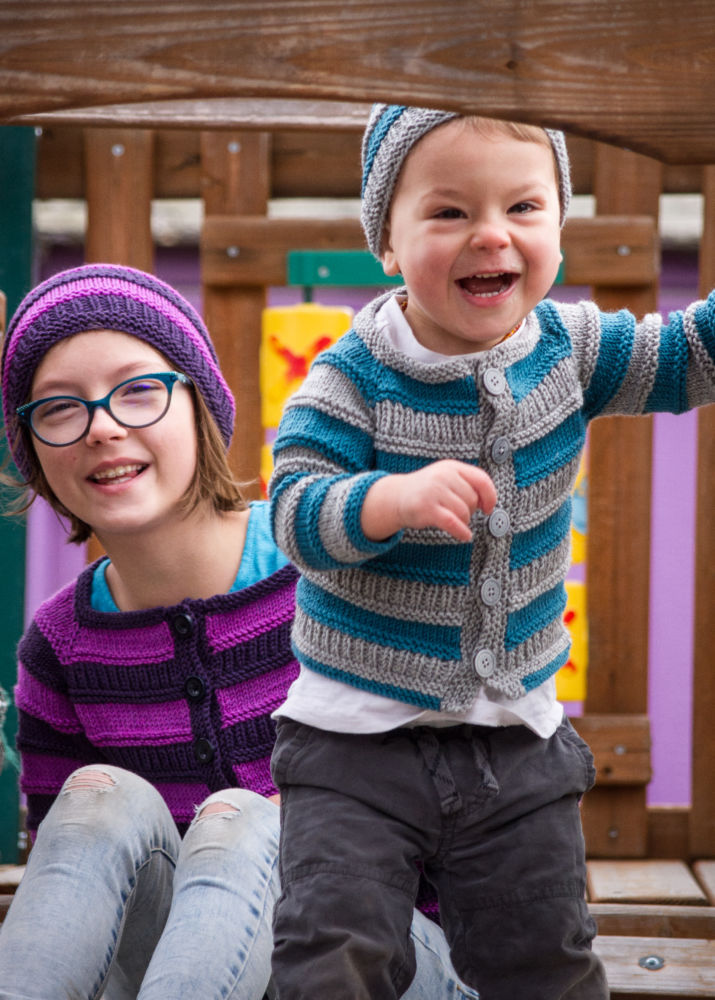 Worked from the top down this fun cardigan has a combination of 1×1 ribbing and garter stitch for simple and cozy texture. Pick your kiddos favorite color combination and make them this slim-line cardi that is designed to fit under a jacket. Want a larger look? With 10 sizes to choose from you simply need to knit a larger size for a roomier fit. Try making matching sweaters for a family photo shoot, or use a rainbow of colors for a wild stripe look.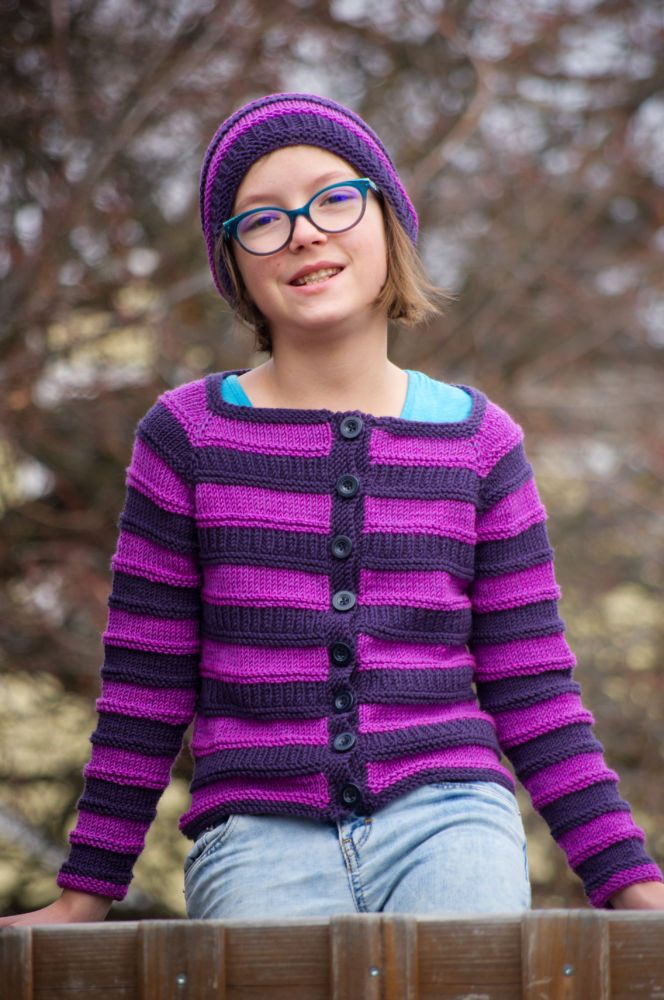 Shown in Size 18m; MC grey #007, CC lagoon #041
and size 8y MC purple #0024, CC orchid heather #0090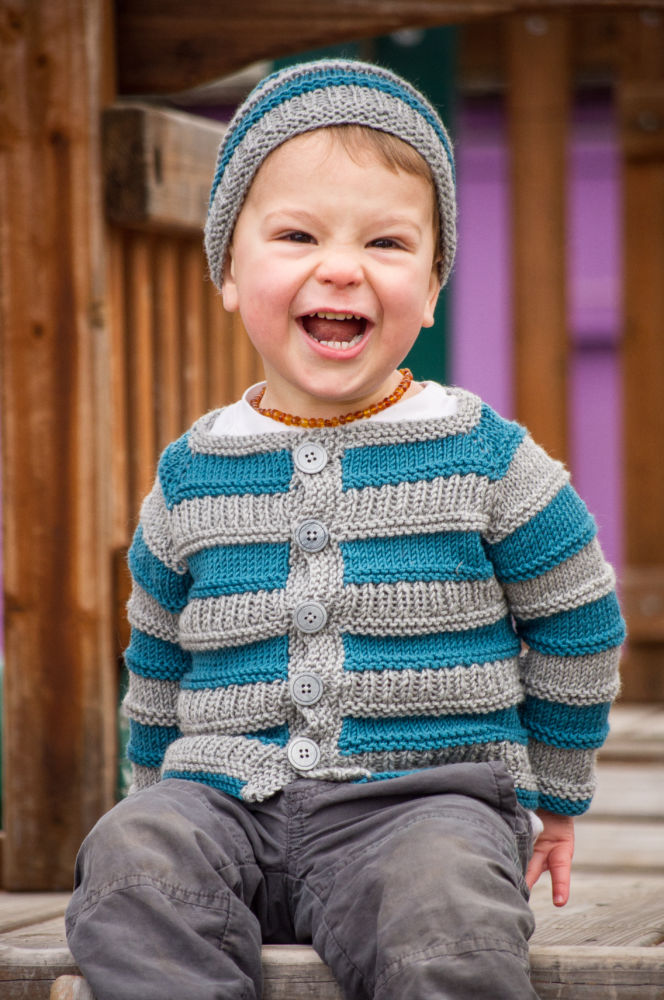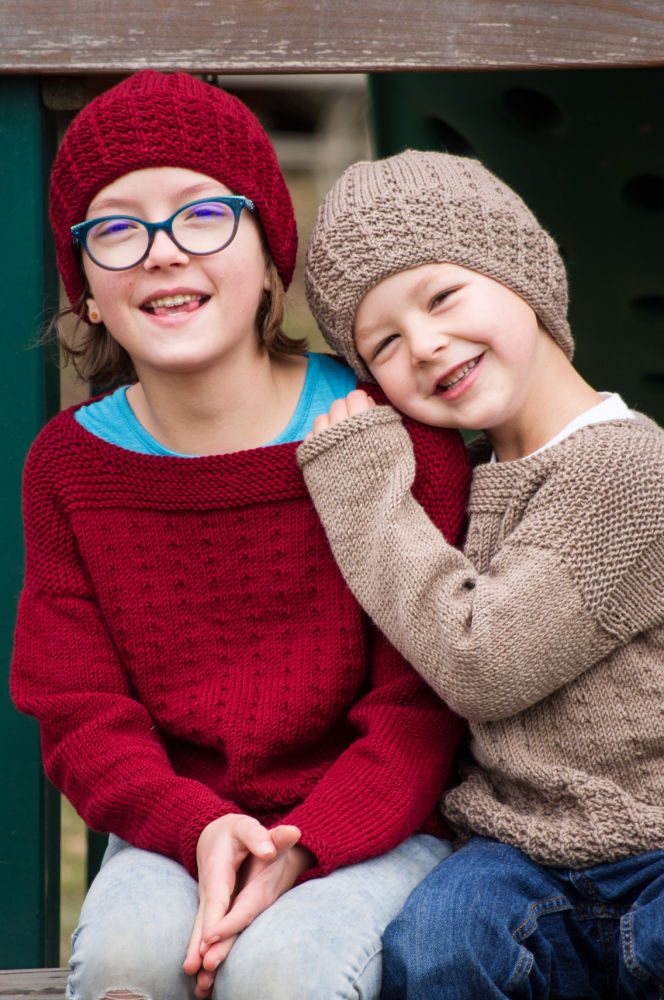 This wardrobe staple is worked from the bottom up in the round with three distinct sections of texture, all simply worked with a combination of knit and purl stitches. Drop sleeves make for a roomy and cozy fit that would work best as an outer layer. Short rows are included to shape the shoulders on either side of the rounded neck and all edges are finished with a garter stitch border. Want to emphasize the texture? Try working the three different patterns in different colors of yarn, or three shades of the same color for a gradient look. This garment was a favorite of the models and they both requested a pullover to keep – looks like Mama is knitting more Swing n' Zip pullovers this fall!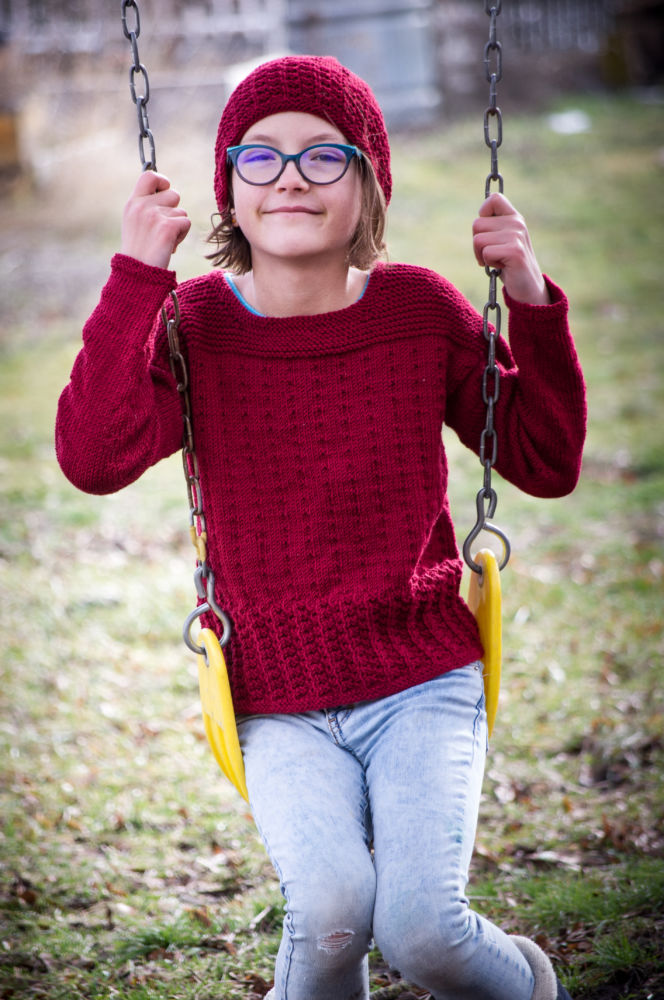 Shown in size 6y; fox #0065, and size 10y; burgundy #0016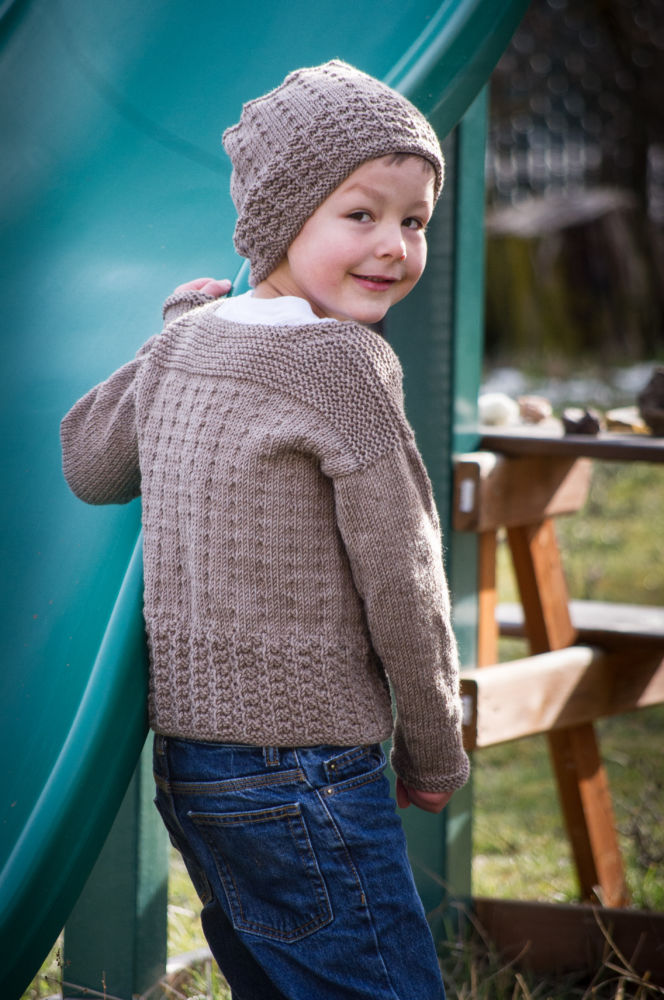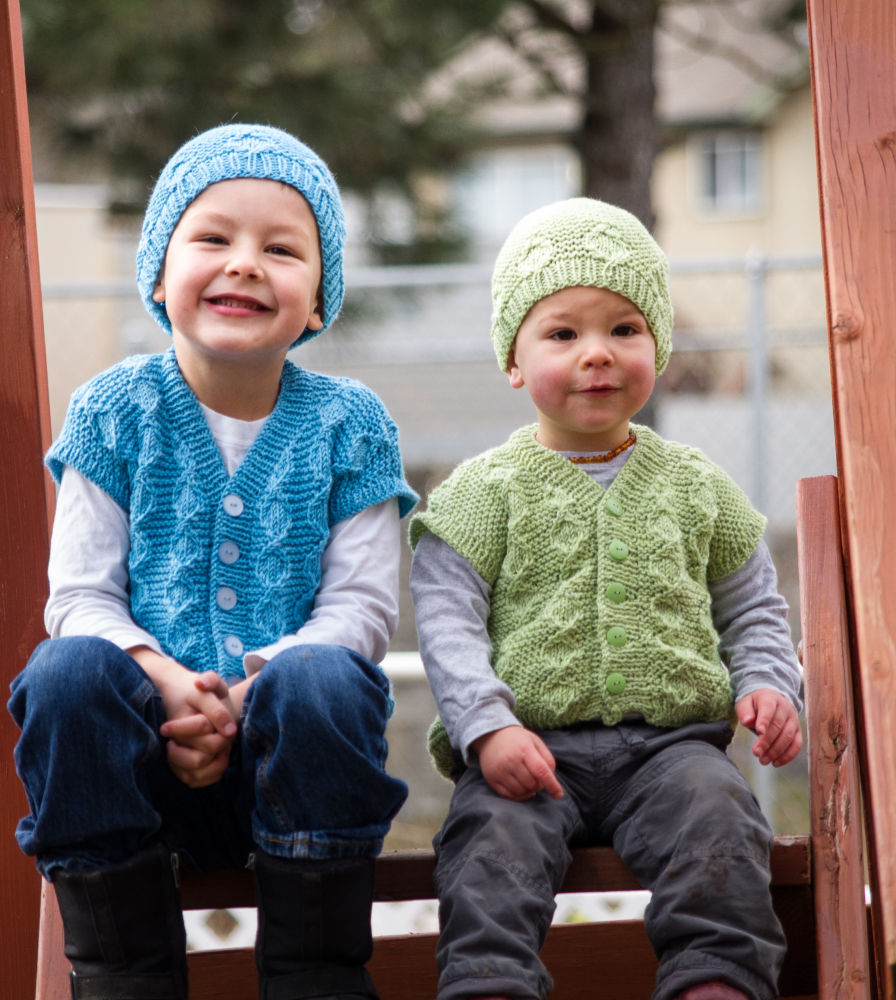 Vests are such a great layer for little kids, keeping the core warm and leaving the arms free for swinging, sliding and climbing. This vest is worked from the bottom up all in one piece with a garter and cables pattern that looks like a twirly slide silhouette. The bottom body has a slight a-line shape with decreases hidden in the garter stitch at the sides and straight sleeve openings. A v-neck front and wide bands of 1×1 ribbing give this vest a classic look that can be dressed up or down as needed.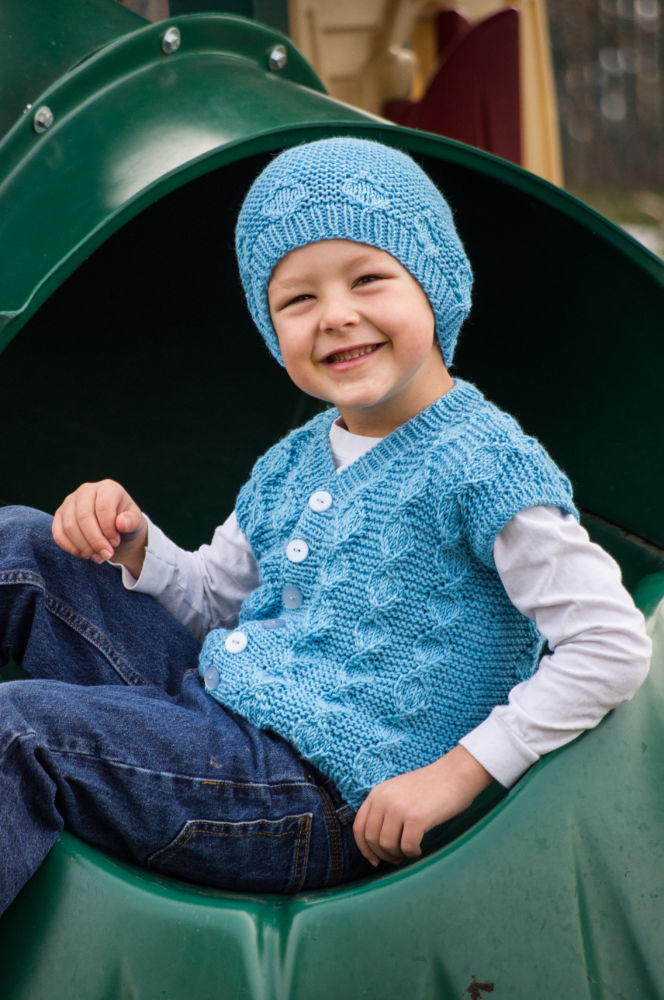 Shown in Size 2y; lime heather #0087, and 6y; turquoise heather #0089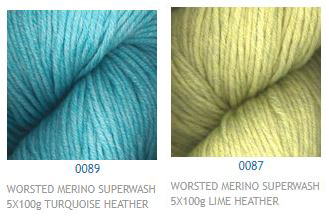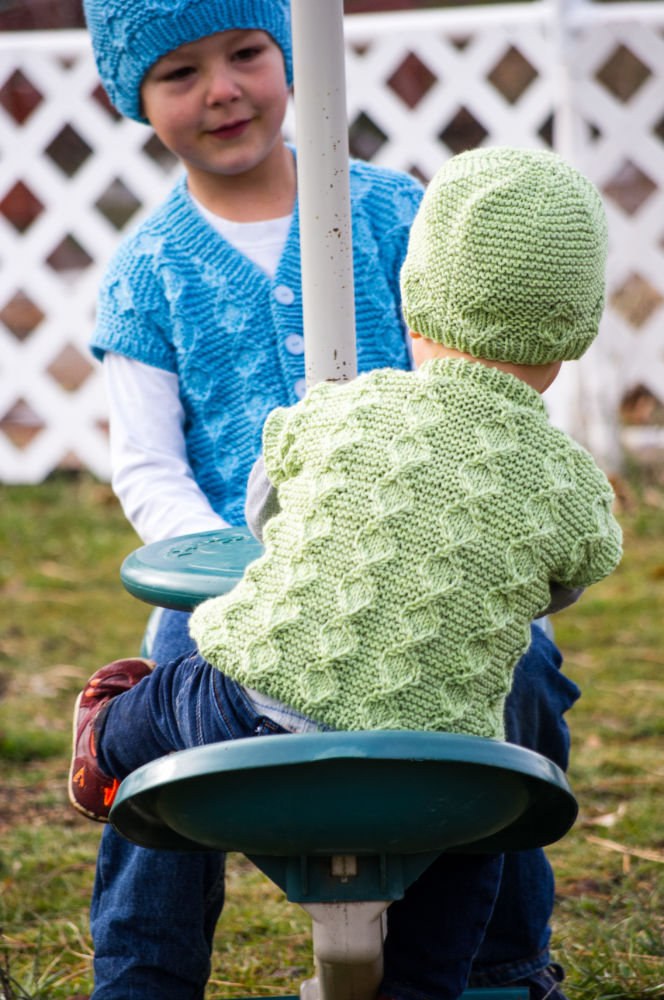 What Yarns to use?
There are three great yarn ideas for the Treehouse Collection patterns, read below for the individual stats and benefits for each yarn.
Worsted Superwash Merino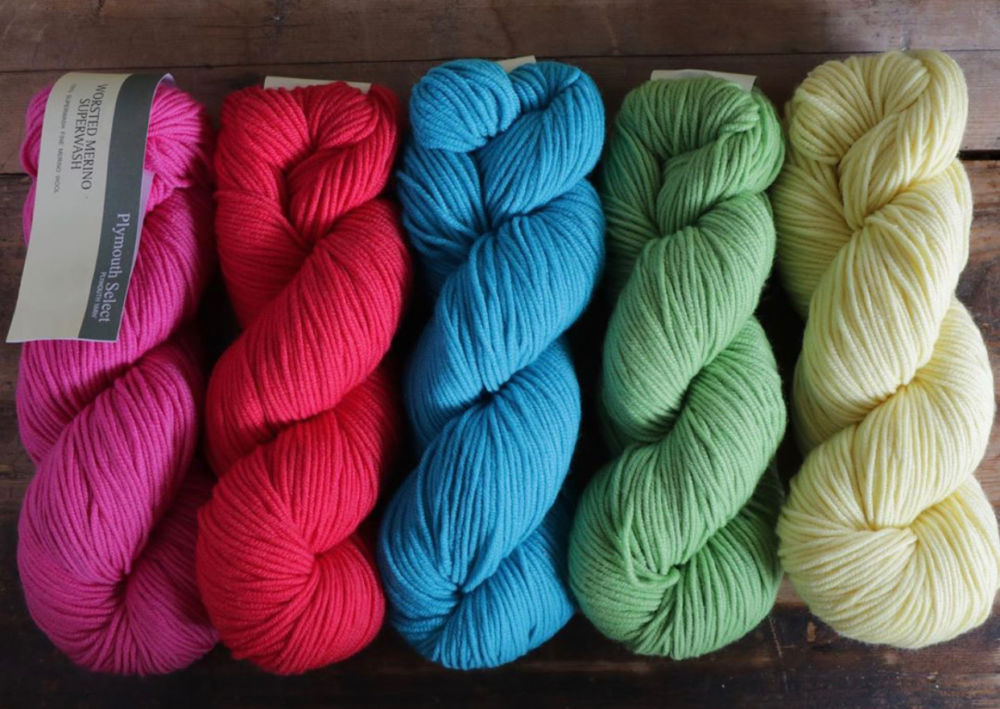 Special thanks to Downtown Yarns for this great photo of Worsted Merino Superwash skeins. 
Weight: Worsted Weight
Yardage: 218 yards = 3.5oz /199m = 100g
Materials: 100% Superwash Merino Wool
Colors: 73 colors
Worsted Superwash Merino comes in every color of the rainbow and more! This superwash merino yarn has next to skin softness that even passed the fussy toddler test. The smooth 3 ply yarn looks great in cables and texture stitches, and comes in generous 218 yard hanks.
Encore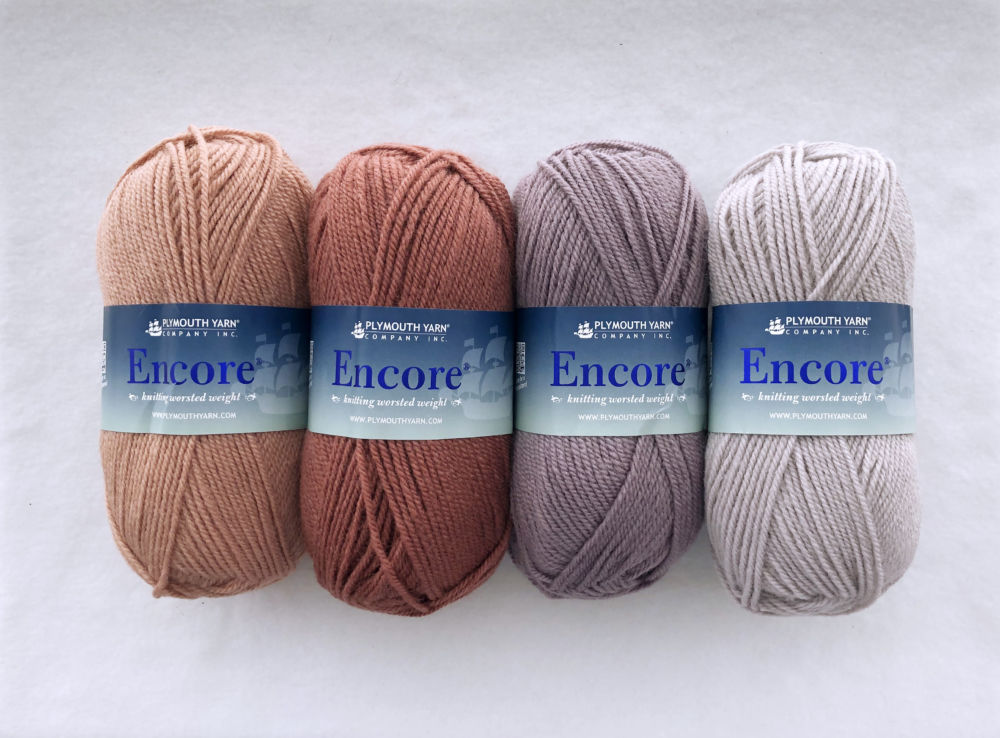 Weight: Worsted Weight
Yardage: 200 yards = 3.5oz /182m = 100g
Materials: 75% Acrylic, 25% Wool
Colors: 105 colors
Encore is available in a whopping 150 colors, this blend of acrylic and wool is super versatile and exceptionally easy care. The durability is unparalleled and this yarn will stand up to tough kids taking a tumble in their new sweaters.
Galway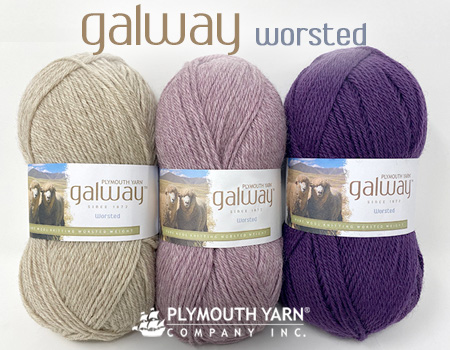 Weight: Worsted Weight
Yardage: 210 yards = 3.5oz /192m = 100g
Materials: 100% Wool
Colors: 78 colors
Galway is a 100% wool yarn that is hand wash only, but what it lacks in easy care it gains in warmth! The process that makes wool into a superwash strips the fibers of its microscopic scales which prevents it from felting, but also reduces its warming abilities. A 100% wool yarn like Galway is sturdy and warm, naturally fire retardant and will keep the wearer warm even when wet. This yarn would be great for an outdoor layer to keep your kiddos cozy in the elements.
Featured Shop
Located in the East Village, Downtown Yarns is a female owned shop and offers a wide selection of yarn, fiber, books, magazines and notions for knitting, crochet, embroidery, felting and spinning. They carry Worsted Merino Superwash and are soon to carry Galway yarn which are both excellent choices for the Treehouse Collection patterns.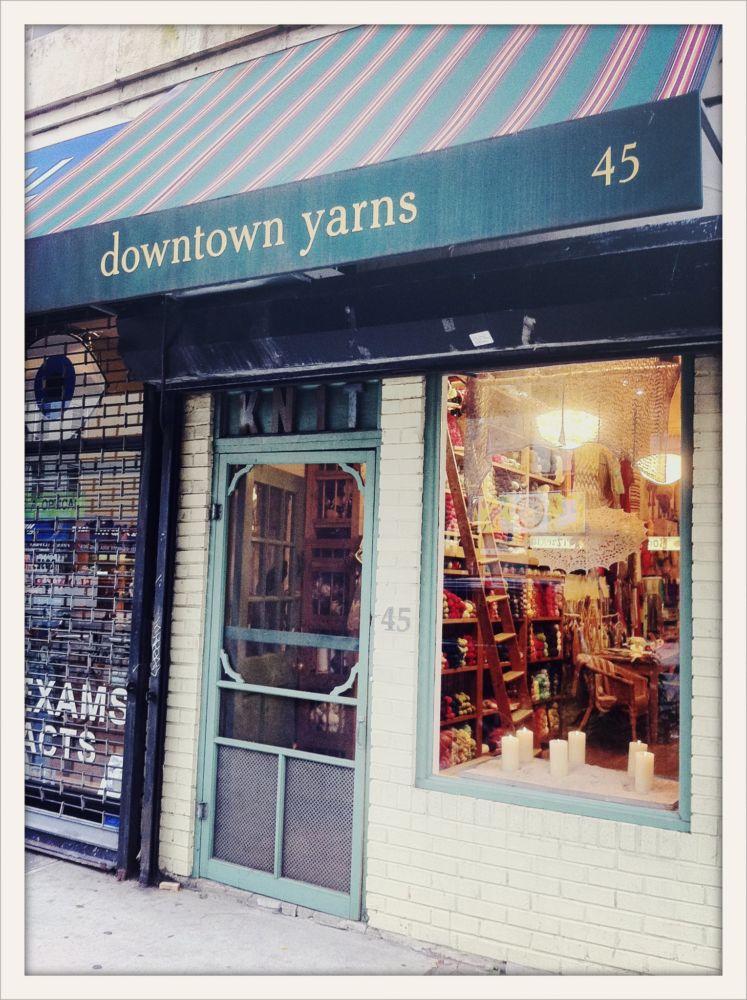 Downtown Yarns is open for business with strict rules about social distancing and limited attendance numbers to keep you safe! Make sure to check them out Monday to Saturday and support your Local Yarn Shop- plus this shop looks like a whole lot of FUN! If you don't live in the East Village area you can always check out their Facebook Page for more info.