Meet our newest fibers!
An exquisite selection of various fiber combinations and color palettes that promise to become a source of beautiful creations.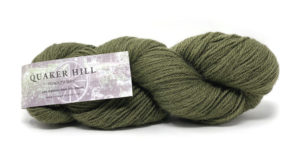 Quaker Hill
Take a trip to the heartland with Quaker Hill, this 50% alpaca, 50% highland wool, dk/sport weight blend combines the best of both fibers. Quaker Hill has the wooliness and stitch definition of a great classic wool combined with the soft hand and drape of alpaca. The 14-shade color palette includes 6 traditional neutrals, and 8 rich colors reminiscent of blueberry pie, red barns, fields of wheat, and rolling hills. Quaker Hill is an excellent choice for cable, or colorwork patterns.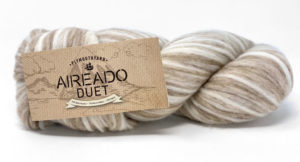 Aireado Duet
Take flight into the stratosphere while you knit with yarn that feels like an actual cloud! The alpaca, nylon, and merino wool combination of Aireado Duet is as soft and airy as spun gossamer with a chainette construction that knits up into a fluffy warm fabric. Available in 6 timeless color combinations this yarn works up into stripes that alternate between the 2 colors present in each skein. Beautiful for sweaters, and luxurious afghans. Try Aireado Duet in a cozy cowl or knit a few hats from the massive 283-yard skein of this chunky weight yarn, just make sure to close your knitting bag so the project doesn't float away!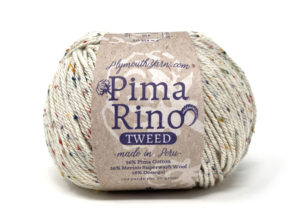 Pima Rino Tweed
What do you get when you take a terrific cotton and wool blend that is great for stitch definition and warm weather garments and add even more texture and surface interest? Pima Rino Tweed of course! This tweedy version of the popular Pima Rino has slubs of Donegal spun into the smooth round cotton blend for a texture and color boost. Boasting 10 lovely spring inspired colors Pima Rino Tweed features, 5 shades with multicolor slubs and 5 shades with neutral color slubs. This versatile yarn makes for a great light cardigan, or warm weather shawl as the cotton keeps the fiber cool with crisp definition and the wool gives the yarn elasticity for structure and ease of knitting.
Dive into the deep and sophisticated shades of the Aran weight Mojito Merino and let this marled chainette wool blend create your next luxurious and cozy sweater. Available in 10 refined shades the deeply colored ultra soft merino wool is alternated with a more subtle shade of nylon for a marled effect. Mojito Merino knits up into a light and airy fabric that catches the warm air and keeps it in the fibers for a soft and cozy garment or accessory. With a knit texture like brushed velvet this yarn can handle subtle stitch texture or just work with plain stockinette for a plush finish.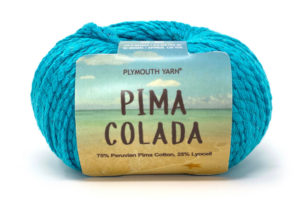 Pima Colada
Escape to your own private island and feel the warm tropical breeze with Pima Colada, a 75% pima cotton, 25% lyocell blend available in 10 sunny colors. This aran weight cotton and lyocell blend is soft to the touch and slinky to knit with, the chainette construction blends alternating rounds of the two fibers for subtly marled effect with a slight sheen. With names like Sandcastle, Coral, Aqua, Seafoam, Sunbeam and Driftwood Pima Colada is ready for a trip to that white sandy beach with you! Pima Colada is absolutely perfect for warm season knits, its drape and cool hand will create beautiful summer cardigans, shawls or tee shirts.
Announcing Brand New Book from Plymouth Yarn Design Studio #665 Treehouse Collection – featuring designs by Meghan Jones