CRAFT IN THE NAME OF LOVE!
Are you ready to make masks?
Currently, the supply of surgical masks is at a critical all-time low throughout the entire nation. As a community of crafters, knitters, crocheters, weavers and sewists, this is a great time for us to band together and make a huge difference in this time of need!
While handmade fabric face masks are NOT a substitution for N95 masks, in times of emergency, the CDC may allow handmade fabric masks to be used when critical shortages take place. You can read more from the CDC here on the use of homemade masks here.
In addition to helping medical staff during critical shortages, these masks can be used at home as well. While wearing homemade face masks will not prevent against catching a respiratory illness, they can help reduce the spread of large particles when someone sneezes or coughs.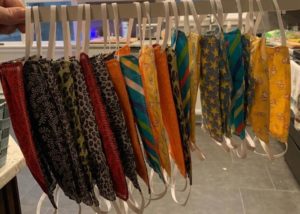 Homegrown Mask-Maker
Here in our hometown Bristol Borough, PA a local business owner is stepping up to Covid-19!
Maria Marucci Smith,  a lifelong resident of Bristol, PA Owner of Maria's Dye In Style, Salon in Bristol Borough has been a friend of mine for over 22 years. Maria and I met in grade school (shot out to Good Saint Ann) and have remained friends into adulthood. Maria has always been creative, artsy, charitable and extremely entrepreneurial. Maria comes from a long line of business owners who have stepped up to help our community in times of need.
Maria an avid crafter along with her Daughter Sage took a hold of her sewing talents to create face masks using fabric and elastic trim. Maria was receiving facemask requests from friends in the medical field and patients to protect themselves. Masks are necessary even if they are being used to transport patients through the halls. Maria started with youth-sized masks as there is not a big supply of those as it is.
Maria plans to help wherever it is needed within the community she plans to drop off masks to local hospitals and care facilities. 
Our community of crafters are coming together all over the country to do their part. Whether they are knitting hats for preemies in the NICU or chemo caps for patients battling cancer. Knitters, Crocheters, Weavers, Seamstress come together to craft in the name of love.
Stay safe and make masks!
Kaelin
Additional Resources for Proper Mask-Making Techniques:
https://psjh.blob.core.windows.net/covid/2020-%20PSJH_CLINICALFACEMASK_%20Instructions%20-%20Final.pdf
Maria's Pics