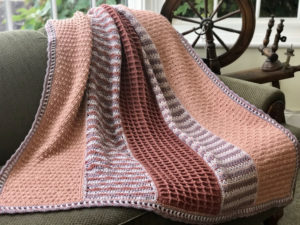 We're going to crochet a blanket and learn some things!
I'm Edie Eckman, and I so excited to be hosting this Crochet Along for Plymouth Yarn.
I've designed this afghan in five panels, each with a different stitch pattern. We'll be doing a different panel in each installment, and in the final installment we'll be putting the panels together and adding a complementary border.
You'll need to be comfortable with chain, single crochet and double crochet. Along the way I'll show you tips and tricks to make your crocheting go more smoothly.


Why Crochet in Panels?
The handy thing about working in panels is that you can crochet along on one panel, but if you aren't keeping up with the crochet along (or you just get bored), you can simply start on the next panel whenever you want.
Crocheting in panels means that the project is portable. You don't have to carry a ginormous blanket with you as you work; you just have a long strip of crochet that fits nicely inside your project bag.
How Are the Patterns Written?
The patterns for each panel are written in standard crochet-speak using American crochet terminology, but I'll be working along with you in a video. You can watch me do the stitches, and I'll explain a lot as I crochet. Be sure to watch each lesson for helpful hints.
In addition to the written text instructions, each stitch pattern includes a chart. If you've never used a chart before, it's well worth the effort to learn, as crochet stitch diagrams can explain the locations of stitches and their relationship to each other much more clearly than words can.
How Does the Crochet Along (CAL) Work?
Each Wednesday for seven weeks (starting today), a new piece of the pattern will be released. You can find it here on the Plymouth Yarn Magazine blog.
You can also find it as a free pattern download on Ravelry. The pattern will be updated each week, so the instructions are cumulative. The newest version of the pattern will include all the parts that have been released up to that point. At the end of the CAL, the complete pattern will be available.

Where Do I Ask Questions?
If you have questions, ask them in the comments below. I'll be monitoring this page and do my best to answer every day until after the CAL is over.
Whether you are just starting out on your crochet career, or you are an experienced crocheter, you're sure to learn something and have fun as we crochet along together. Gather your materials now, so you'll be ready to join me on Panel 1, beginning January 29, 2020.
Materials Needed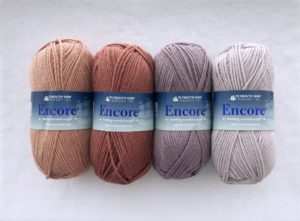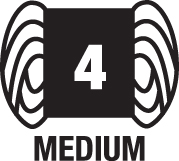 Plymouth Yarn Encore (75% acrylic/25% wool, 200 yds/183 m)
Color 703 Amber Blush (A) – 6 balls
Color 704 Desert Rose (B) – 5 balls
Color 702 Purple Dusk (C) – 2 balls
Color 701 Glacier Grey (D) – 2 balls
Size H [5 mm] crochet hook or size to obtain correct gauge
5 locking stitch markers or pieces of waste yarn for markers
Tapestry needle
What Other Colors Could I Use?
Use anything that suits your style! Watch this welcome video for more information. The colors shown in the video are listed below.
Earthtones
Color 1415 Fawn Mix
Color 560 Cranberry Mix
Color 6006 Latte Heather
Color 218 Champagne
OR
Jeweltones
Color 469 Storm Blue
Color 157
Color 158
Color 460 Golden Glow
Now go get your yarn, and let's get started!