We are happy to be a sponsor of the:
Click the above link to find out more details.
You can try Plymouth Yarn's  Baby Alpaca Grande  a great hand knitting yarn.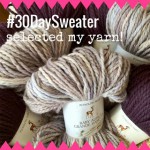 We have well over 50 colors available in solids and melange.
Baby Alpaca Grande is also available in Tweed, Hand dye, Hues and Glow.   The yarn is just beautiful, soft and voluminous.
Give it a try, it is not to late to begin.
Visit Noble Knits to find out more information on purchasing the yarn.
#30daysweaterchallenge
sign up to our RSS feed.  We will be posting more information about how to win free stuff!!! Free pattern give away…coming soon!!!!