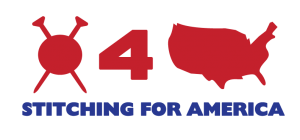 Stitching for America is an event for all to participate.  It's a collaboration of thoughts from Tarie Williams, www.yarnheaven.com, a person near and dear to Charity Knitting  and The Plymouth Yarn Company.  It is to help our neighbors who have been affected by the recent devastation of the floods, tornadoes, etc.  If we all unite together, we can help.
The following Local Yarn Shops have been generous to offer their services for receiving donations and distributing to those affect by the recent tragedies.
Wildflower Yarns, www.wildflowerknits.com, 300 Poyntz Ave, Manhattan, KS 66502. Tel # 785-537-1826
Hillcreek Yarn Shoppe, www.hillcreekyarnshoppe.net , 1414 N. Range Line St. Suite D, Columbia MO 65201. Tel #573-449-5648
Sealed with a Kiss, www.swakknit.com 109 E Oklahoma Ave, Guthie OK 73044. Tel # 405-282-8649
Stringtown Yarn & Fiber,www.stringtownyarn.com,  900 S. Greenwood Ave #C , Fort Smith, AR 72901. Tel #479-434-2617
Knutty Knitters, 1339 Lake City Rd, Yazoo City, MS 39194. Tel #662-746-7555
Serendipity Needleworks, www.serendipityneedleworks.com 412 Queen City Ave, Tuscaloosa, AL 35401. Tel #205-758-0108
Yarn Heaven, www.yarnheaven.com W. Arkansas Lane, Arlington, TX, 76013, Tel # 817-226-9276
Of course, there are many other areas in the USA that have been affected.  This list is not limited to the above.  All are welcome to participate.  This is an event to help those in need.

Graphics donated by: www.Heatherink.com
The following patterns have been donated from Plymouth Yarn:
Click to image to download the pattern as a pdf