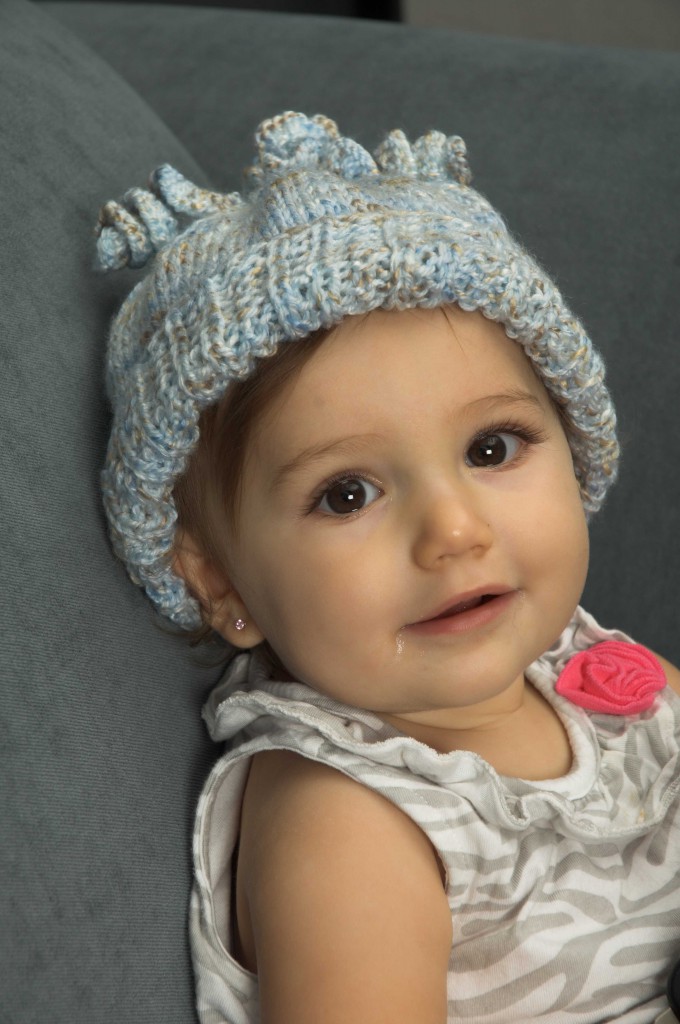 Post by Cia Abbott Bullemer
Now that we have had a few nights in the 50's, it makes me stop and think about all 4 of my baby girls (granddaughters) and their need for warmth and Nonnie lovin'! (This little one isn't mine, but feels similar when I get to hold her!).
A few years ago, (actually probably 10!) I took a class from Nicky Epstein in Encinitas CA at Common Threads.  She was teaching edgings from her Knitting Over the Edge book.  Well, the simplicity and the brilliance of the corkscrew tassel has followed me thru the years.
Hence the cute "pompom" corkscrew tassels for this cute hat.  It is shown here on our little model, Gianna.  She is the granddaughter of one of our excellent test knitters.  Watch her grow up with us.  She is a dream baby to work with as well.  Always in a good mood and very tolerant of the multiple wardrobe changes!
Back to the hat!  It is made with a new yarn that Plymouth is showing for this season.  It is called Baby Beenz.  Our Jelli Beenz has been such a success over the years that we came to the conclusion we need Baby colors!!!  And here it is! We love the fiber content's durability wash after wash after wash.
Feel free to ask for it at your LYS and print off this free pattern.  Trust me, you will make it over and over again as well as the corkscrew tassel!!!
F527 Baby Beenz Corkscrew Hat Pdf Download