I've heard about yarn being used for various things other then knitting or crocheting.  For things like hair on a doll, as a piece of string to hold a little porch tree straight, arts and crafts and even a hair accessory.  When I received this link the other day it totally blew me away.  It showed me a whole new use for yarn,  something I would have never dreamed of ……  A pothole filler!!  Yes that is correct a pothole filler.  What a terrific and funky idea!   Just think of how great, some of our cities could look with pretty yarn, used to fill in the cracks that nature leaves us with.   No patterns needed just some yarn and a little time.   🙂  What an interesting way to reduce, reuse and recycle.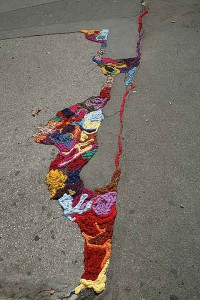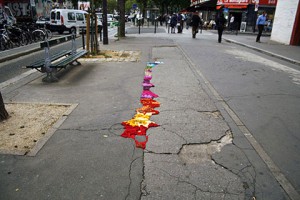 With Earth Day right around the corner it is time for us to remember that every little bit helps.   As I was searching the internet for Earth Day activities in my local area, I came across a cute poem I wanted to share:
Everyday is Earth Day, If it's cold or wet or hot pitch in to save the planet it's the only one we've got.