2 weeks ago I promised to post a cowl pattern and finally- here it is.  These things are definitely "This Year's Scarf".  They can be fast to knit, using simple repetative stitch patterns and use very little yarn so they are a perfect way to try that luxury fiber you have been drooling over.
The one posted here has been an absolute favorite at my local yarn shop.  Even newbie knitters are quick to pick up the easy stitch repeat and are on their way to instant gratification with this weekend project.
Baby Alpaca Grande is a perfect yarn for this cowl- soft and warm around your neck, with beautiful drape.  Please try this pattern- it requires only 1 hank of this Plymouth Classic.  I will have another pattern for you soon too.
JoAnne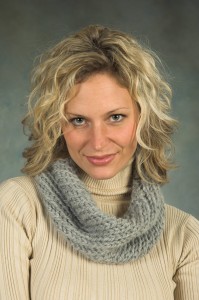 EASY ONE ROW COWL
Materials:  1- 100g hank- Baby Alpaca Grande.
Size:  About 22" around, about 10" long.
Gauge:  12 sts = 4" using size US 11 needles over st st.
Needles: US 11- 16″ circular; 1 stitch marker.
Cowl:
With the 16" circular needle, loosely cast on 60 sts.  Place marker and join in the round, taking care not to twist the sts.
Round 1:  Knit 1 round.
Round 2:  *(YO, k2tog); repeat from * around.
Repeat ROUND 2 until almost out of yarn, ending at the marker. Bind off loosely. Weave in all ends.
©2009 Plymouth Yarn Co.  Design by Amanda Johnson