I am pleased to announce the release of my new shawl knitting pattern, Ojo De Dios Chunky. Plymouth Gina Chunky self stripes into modular-motif triangles. The seamless triangles form the border of the shawl. A v-shaped garter stitch body is picked up and knit afterward. Some of you may know of my original, "little sister" shawl, which is the original Ojo De Dios knit in Plymouth Gina (a worsted weight).  I really enjoyed re-designing this shawl concept. Since this is knit in a chunky weight,  you'll be able to knit at a faster pace. I think it took me 3 evenings.
The design is part of a collection of 5 accessories that feature motifs in Interweave Knit's newest e-book. Designs are from Grace Akhrem, Quenna Lee, Paula B. Levy and Daniela Nii. Just click the link to purchase your copy. You can also purchase a kit for the shawl from Interweave.
Now that I've introduced you to the new design……I want to announce I will be hosting a KAL (knit-a-long) and giveaway for my shawl on ravelry in the Plymouth Yarn Group.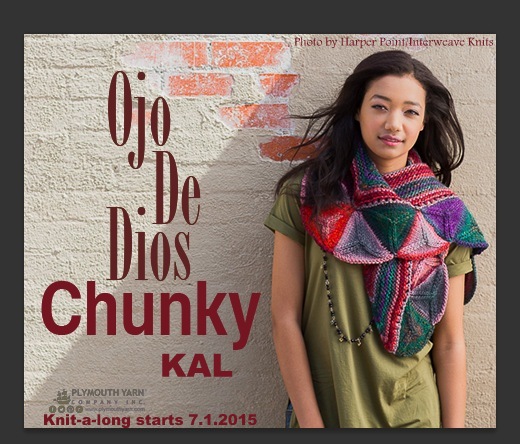 To Participate in the KAL:
Start date: 7.1.2015
End date: 7.31.2015 11:59 pm EST
Purchase the Motifs E-book from Interweave
We recommend using our Gina Chunky yarn. It is a great singly-ply self-striping yarn that has crisp, vibrant and unique colorways.
To Participate in the giveaway:
Post in the KAL thread that you are joining us, mention what Plymouth yarn you will be using. (must use a Plymouth Yarn to participate in the giveaway) See retailers near you or purchase the kit through Interweave.
Create a ravelry project page and post a clear photo of your finished shawl.
Complete the shawl by 7.31.2015 11:59 pm EST.
Must be over 18 years old and live in the USA Or Canada.
Everyone who completes the above requirements will be entered into our drawing at the end of the KAL.
The giveaway is a surprise and will be revealed at a later date. (Hint: There will be multiple winners!)