Bonnie Lively, our rep in the Pacific North West, knit this fair isle out of Encore Worsted for her new grandson, Coy.  He's pretty adorable ( 9 months) and so is the sweater. Graphics were partly invented and partly taken from XRX publication Babies and Toddlers, A Knitter's Dozen, Fair Isle Fun,
designed by Mags Kandis.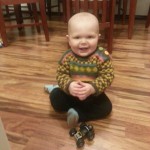 We enjoy featuring real life blogs.  If you have something you would like to share, please email,  blog at plymouthyarn dot com.  You will have to type this address in an email format.
Happy knitting 🙂