Winter is coming!
I haven't lived in these climates since 1994 when my husband and I packed up the kids and moved south!  BRRR! This little headband or neckwarmer is a fun little 1-2 hour project made with Grignasco's Camel Hair.  You can actually make 2 from the 2 balls of yarn-obviously they are mirror images of colorway, but hey! You get 2 out of it.
I also see this as a nice and easy way to test your skills on Fair Isle or 2 color knitting.  You only have 13 rows to deal with changing colors, and you are working in the round. No need to struggle with your tension expertise on that purl row!
Have fun with picking color combos, and get some holiday gifts done in the meantime.
Enjoy!  Cia
Pattern F479
SNOWFLAKE HEADBANDS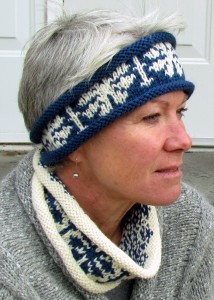 Approx. Finished Measurements: 21" x 4.5"
Materials: Grignasco Camel Hair
2 balls (1 ball of Main Color, and 1 ball of Contrasting Color)
Gauge: 18 sts = 4" in Stockinette Stitch on size 8 needles
Needles: Size US 8 (16") circular knitting needle,
(1) Stitch Marker, Tapestry Needle.
Directions:
With Main Color (MC), loosely cast on 96 sts. Join in the round making sure to not twist the sts.
Place marker to indicate beginning. Knit 8 rounds.
Row 9: With MC and Contrasting Color (CC) Beg motif following chart working MC and CC colors as indicated on the graph.
When 13 rows of graph have been completed, work 8 rounds with MC. Bind off loosely.
Weave in all ends.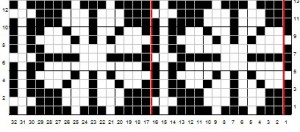 KEY (Repeat 15 sts x 13 rows)
Black Square =Main Color
White Square=Contrasting Color
Start with St # 1 and repeat between St # 2 and St # 16.
©2012 Plymouth Yarn Company. 110412cab