"Crochet is alive and well in Minneapolis!" This is evident when you step foot into StevenBe, an elegant yarn workshop located at 3448 Chicago Ave in Minneapolis, MN.  Many of you know Steven Berg as the "Glitter Knitter" and his beautiful shop lives up to his reputation with a sparkling chandelier and plush chairs to welcome you.  Sit back, grab your hooks and needles and enjoy the lovely mix of animal prints and fine art that adorn the space.  Imagine all this while creating your masterpiece with classical music or even a live harp playing in the background. There is lots of great Plymouth Yarn to be had.  I think I'm in heaven.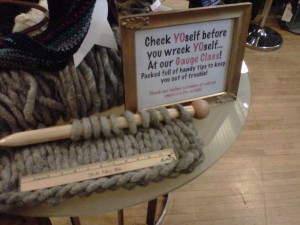 I enjoy speaking to Steven every time he calls.  So much so that when I saw this ad in a magazine a couple years back, I had to put it on the wall next to my desk.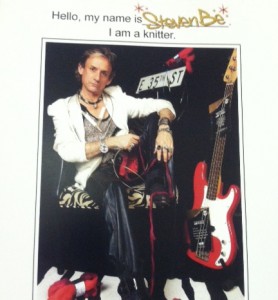 It reminds me of the rock band pictures I had on my walls as a teenager.
Our Design Director Cia stopped by the shop over the weekend and snapped a couple photos during her visit…..
So the next time you are in Minneapolis be sure to visit SteveBe and if you happen to be in Rosemount, MN you can visit Steven's other location, The Yarn Garage and say hi to his mother Christa while you are there!