Baseball and Knitting – 2 of America's favorite past-times.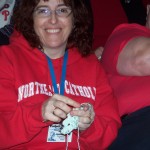 Plymouth Yarn Company participated with the TNNA sponsored event at Citizens Bank Park, with the Philadelphia Phillies.  It was a wonderful evening with colleagues and friends.  The weather was mild and a nice evening to watch the World Series Champions and stitch with your favorite yarn from Plymouth.
We welcome your comments and posts.