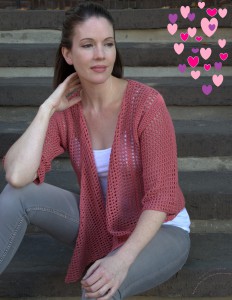 My 9 year old son was given the task of picking out my Mother's Day gift all by himself with his very own money this year, for the first time.  I have to say, he did very well.  I received an array of nail polishes in every shade of blue (my favorite color) imaginable and a beautiful orchid.  He's growing into a sweet young man, that's for sure.  I adore and treasure all of the homemade picture frames, pipe cleaner flowers and finger painted works of art from the past years but I think the fact that he really put thought into my gift that made it so very special to me.  I honestly thought I'd end up with a Lego set!
For three lucky ladies out there, we have the gift you really wanted! All you have to do is win it! This beautiful Bio Sesia 5  CROCHET cardigan kit, pattern 2804, comes in so many sizes it will fit and flatter just about every mom.  The luxurious, 100% organic cotton Bio Sesia 5 is super soft with a beautiful drape.  It will be your spring/summer/fall go-to coverup for that night around the fire pit with mommy drinks after the kiddos are asleep!
Would you like a chance to win this kit? Just comment on our blog with the best or "it's the thought that counts" gift you've ever received for Mother's Day.  Not a mom? You can play too! Tell us the best or worst gift you ever gave your mom/teacher/Grandmom/Aunt.
Colors will vary.  Winner chosen at random on or about May 15th 2015.