Many years ago, felting seemed to take over the knitting community. I would spend evenings with two of my friends, Amy and Gloria, working on knit and crochet backpacks, flowers, beads, petals, and hats to be felted. I remember in particular a large felt tote I made using super chunky wool and a lattice design. The bag was so large that I could actually sit in it (yes, comfortably!) before felting.
The magical part of felting was that it appealed to beginner and advanced knitters alike. Beginner knitters didn't have to have perfect tension or wonderful seaming abilities. Pretty much any mistake could be hidden once the knit was felted. Advanced knitters could appreciate the smooth and rewarding fabric from doing intricate shaping or colorwork (think tartans and plaids!).
Felting is asking for a resurgence. I have designed for the month of June a felt hand bag that uses a fun, easy to memorize motif: the triangle. Plymouth Yarn's Gina is a 100% wool roving yarn that has a delicious stripey color transition. Gina really makes the construction of the triangles POP. You won't need to change colors, tie in ends, or any of the normal striping techniques for this yarn. It does the work for you- and it will keep you interested in knitting the bag just to see what color will come out of the ball next.
Are you going on any road trips this summer?I will be going to the shore several time this summer, and this will be an enjoyable travel companion to my car ride.
enjoy! Vanessa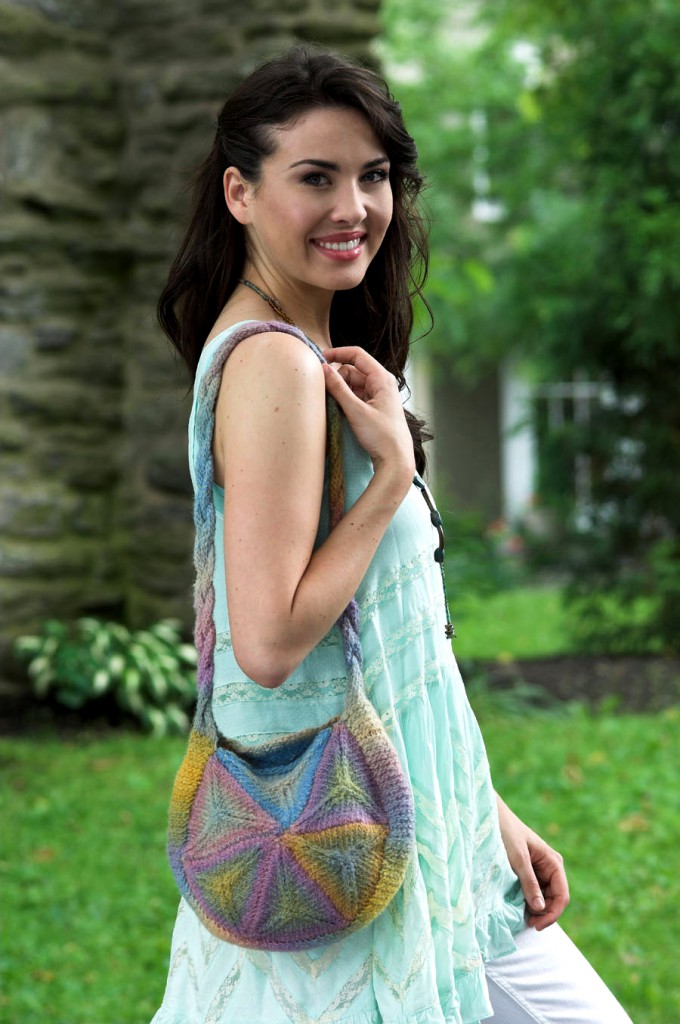 Gina Hexagon Felted Bag
Approximate Dimensions:
10" wide 10" tall
(not including handle)
Materials:
Gina: 3—50G balls, color 11 Spring Flowers
Gauge: 16 sts, 16 rows= 4" in st st on size 10 (6mm) needles (before felting),
5" x 5" = 1 triangle, before and after felting.
Needles: US Size 10 (6mm) DPNs (double pointed needles), stitch marker, yarn needle for sewing.
1 Triangle
CO 66 sts, placing 22 sts each onto 3 DPNs.
Join in the round, being careful not to twist. PM. K one round.
Round 1: *Ssk, k to last 2 sts on DPN, k2tog; rep from * twice more. (6 sts decreased)- 60 sts.
Repeat the last round until there are 6 sts remaining- 2 sts on each needle. Cut yarn and draw through remaining sts. Fasten off.
Make 11 more triangles. Make 2 hexagon motifs by working a small (not too bulky selvedge) mattress stitch- stitching 6 triangles together. Set aside.
Strap/Gusset
CO 14 sts onto a DPN. Work in garter stitch (knit every row) for 25"- this "gusset" will go around the perimeter of the bag.
Rows 1, 3, 5, 7 (WS): P all sts
Rows 2, 6: K all sts.
Row 4: Sl 5 sts to spare DPN and hold to front, k5, k5 from DPN, k4.
Row 8:  K4, sl 5 sts to spare DPN and hold to back, k5, k5 from DPN. Repeat these 8 rows for braided strap until desired length- ours is approximately 26" + 25" for the gusset. End having worked row 3 of cable. BO in k on next row.
Finishing
Sew the 25" of the gusset's sides to the sides of the hexagons. Sew the CO and BO edges of the strap together- making sure there isn't a twist in the strap.
Felting: Gina felts quickly and easily by hand.
Fill your sink with hot soapy water so that the bag is just submerged. Using your hands (put on some rubber gloves to protect them from the heat!) agitate the hand bag, rubbing it against the sides of the sink and against itself. You can shock the bag by running it in some very cold water to help merge the fibers together, but it isn't mandatory. When the stitches of the handbag have disappeared and the bag has stiffened a bit from felting, wring out the excess water and roll in a towel to get most of the moisture out. Shape and let air dry.
©2013 Plymouth Yarn Company. 061213vle
ABBREVIATIONS: BO= bind off, CO= cast on, dec= decrease, DPN= double pointed needle(s), k = knit, m= marker, pm= place marker, psso= pass slipped stitch over, p = purl, RS= right side, sl = slip,  SSK =  slip 1 st as if to knit, slip a second st as if to knit, knit them together through the back loop, st(s) = stitch(es), st st = stockinette st, tbl = through back loop,  tog = together,  WS = Wrong Side, yo = yarn over, wyif = with yarn in front, wyib = with yarn in back.