That's right, I said it. Holiday gifts. Don't shoot the messenger.
It's that time of year again folks! Let's start thinking about those holiday projects.  My request list has grown over the years, probably because I've been outed by this very blog! Now everyone knows I knit. Boy,  are they lucky that I love to do it, and my husband works the night shift!
So shine up those needles, wind up the hanks and grab your patterns, it's yarn o'clock.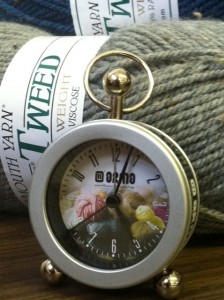 Interweave Knits Holiday Gifts 2012 edition hits newsstands on September 4th 2012 but the online issue release date is today for those of you like me who just can't wait and must get started. There are two perfect-for-gifts patterns in this issue made with Galway and Baby Alpaca Grande. Photos by Nathan Rega of Harper Point Photography.
Don't forget to pick up your digital copy or newsstand copy on September 4th.  You can check out the Interweave Knits website for other editions and great project ideas!