Mother's day is just around the corner, and what wonderful day it is to celebrate your Mother, Grandmother and any mother figure that may be in your life.   My husband has been asking me for over a week what do I want for mother's day?  So for days I wondered what gift could you give to that special woman in your life to show her how much she is loved?  Hugs and kisses form our little ones are truly the best gift ever!   Then it dawned on me, a hand knitted hand bag.  I love handbags and have a great assortment at home.  But the one thing I am missing is a hand knitted handbag for myself.  I always get caught up knitting for everyone else that I never finish any projects for myself.  So I decided that I was going to finally pick a pattern and  knit myself a knitted handbag.   I sent my husband out to the store to pick up all the items I was going to need and told him that was what I  wanted.  Along with a few hours of quiet time, so I may finish my handbag.  I am choosing to do pattern P593.  I love the summer look of this pattern.  If you are interested in finding out how to get this pattern, please click the link to find a yarn shop in your area.
What was your favorite hand knitting project?  Whether it was for yourself, your friend, mother or grandmother.  I would love to know what projects are being made for the special people in your lives 🙂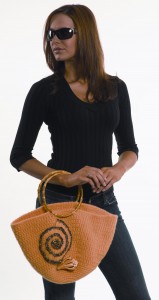 From all of us at Plymouth Yarn Company, Inc., to every Grandmother, Mother, Aunt and Daughter.   We want to wish you a very Happy Mother's Day!!